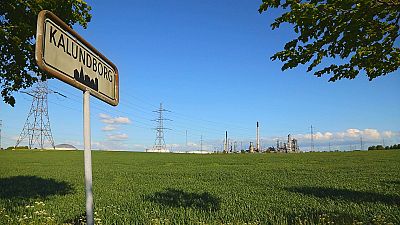 For 40 years the port of Kalundborg in Denmark has been a world reference for ecology in industry, otherwise referred to as 'industrial symbiosis', in which the waste of one industry becomes a resource for another.
The Kalundborg Symbiosis UK from Social Action on Vimeo.
Mette Skovbierg, a leading authority on the subject in Denmark, says the benefits go beyond business: "Between the seven partners here in Kalundborg, we have an annual reduction in CO2 emissions amounting to 275,000 tons, and a saving of 80 million euros, also annually."
The aim is to extend the system to other enterprises. Kalundborg Cleaning Station is one small business that took up the opportunity. Its specialty is cleaning industrial tanks. For 6 months, the manager, Ken, has been working with Mette to find a way to make use of the large volumes of waste water it creates, thereby reducing production costs.
"By integrating the symbiosis, we could halve our electricity costs from the water filtering process," said company manager Ken Gaarde. "Moreover, we really want to be a green company. This is very important for our customers.
He also hopes to find a solution for his other waste – plastics and metal – and is convinced integrating symbiosis will boost business: "With the savings we could make, we could invest in a second cleaning line that would also create new jobs for people in the Kalundborg area."
Mette Skovbierg says the next step for a business like Ken Gaarde's is to identify the symbiosis partners: "First of all, on the metal, it will be very easy, it will take a few weeks. And second of all, more important for Ken is to identify on the waste water. It will probably take a year."
Besides being environmentally friendly, symbiosis allows companies to increase their competitiveness by enhancing their by-products and by reducing their reliance on natural resources. The Danish Symbiosis Center is also in the process of incorporating the system, aiming to to involve 60 companies in 30 symbiosis projects in Denmark.
To succeed in symbiosis Skovbierg says businesses first need to identify what waste they want to turn into a resource: "you have to be courageous enough to enter into new partnerships and you have to keep an open mind when it comes to new green business models."