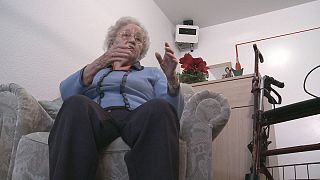 Researchers repeatedly throw themselves to the floor to simulate how a human falls. It is part of an international effort to help senior citizens. Linda Haake, 88, is a volunteer in a European Union research project to make living alone safer in old age.
Frau Haake lives in an apartment at a private elderly care home. She spends most of the time in the company of her friends. But when Frau Haake is alone in her room, she feels secure, an intelligent surveillance device in keeps an eye on her well-being:
"This system makes me feel safe; I know that if something happens it will send out an alarm signal, even if I don't really understand how the thing works."
The device – a box with a stereo camera – has been designed to react if a person collapses in front of it. The smart monitoring system detects contours of moving objects, preserving the residents privacy.
Ahmed Nabil Belbachir is a researcher in sensor technologies,at the Austrian Institute of Technology:
"What we have developed within the project is an optical sensor-not a traditional camera. It's a biology-inspired visual sensor, like an insect eye, that contains a set of pixels that react to motion within its field of view."
This surveillance device can be easily installed in an elderly person's room and works completely autonomously. It doesn't transmit any video outside, so the life in the apartment remains completely private.
The system only kicks in if someone falls down. No additional sensors are required: the software recognises a falling person by looking for typical changes in the body's position, shape and velocity.
When the system detects a fall, it sends a text message alerting the family, friends or care providers.
Ahmed Nabil Belbachi is from the Austrian Institute of Technology:
"We trained the system on more than 1200 types of falls using artificial neural networks algorithms. The system has learned from these examples, so now it can be used in the real environment to detect falls autonomously."
Automatic alerts reduce dependency on care providers as Europeans continue to live longer:
In a Bremen care home, three apartments have already been equipped with the new surveillance system, and other residents are also interested to take part in the trial.
Melanie Thöben is the Director, Am Rosenberg care home:
"There are various systems on the market, but we're choosing this one because it helps security while not infringing upon privacy, which is something we want to avoid."
The testing will continue until the full reliability is ensured before the new technology goes on the market.