State of the Union: What were the top stories in the EU this week?
Comments
By Stefan Grobe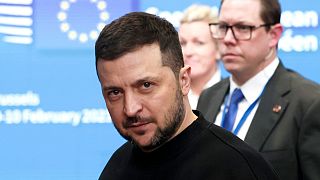 -
Copyright

Yves Herman/AP
Ukraine is fighting off Russian invaders to preserve the European "way of life".
That was, in short, the message of Ukrainian President Volodymyr Zelenskyy, as he went on a whirlwind tour to three European capitals in two days this week.
It was the first time he had travelled to another European country since the start of the war almost a year ago, and his second foreign trip since visiting Washington in December.
After a day in London and an evening and overnight stay in Paris, the Ukrainian leader came to Brussels, arguably the highlight of his trip.
In the EU capital, the European institutions gave him a hero's welcome and at the Parliament, lawmakers showered him with standing ovations.
It was in Brussels where Zelenskyy sought to place Ukraine at home in the EU.
"Europe - we are defending against the most anti-European force in the modern world," he told MEPs on Thursday. 
"We are defending ourselves, we Ukrainians, on the battlefield, along with you."
Ukraine and the EU share not just fundamental values, but a common future, he argued, a future in which his country would be a member of the European Union.
Just hours later, at the EU summit, Zelenskyy got down to business.
Fearing a renewed Russian spring offensive, he urged EU governments to provide more military assistance and fast.
"We need artillery guns, shells for them, modern tanks, long-range missiles, modern aviation. I am grateful to everyone who provides such armed assistance. We have to enhance the dynamics of our cooperation, we have to do it faster than the aggressor," Zelenskyy said.
Fresh arrest in EU corruption scandal
Meanwhile, Belgian MEP Marc Tarabella was arrested on Friday in relation to the ongoing European Parliament corruption scandal.
European legislators enjoy immunity from detention and legal proceedings, but Tarabella lost this privilege last week after his colleagues voted to strip him of this special protection, with Tarabella himself voting to lift his own immunity.
The socialist MEP has consistently denied any wrongdoing since the scandal broke last December.
Four people have been officially charged by the Belgian authorities, including Greek MEP Eva Kaili, her domestic partner Francesco Giorgi, former MEP Pier Antonio Panzeri and NGO director Niccolò Figà-Talamanca.