I can't return to Ukraine 'without results', Zelenskyy says during Brussels visits
Comments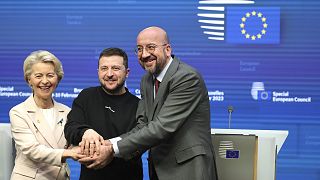 -
Copyright

AP Photo/Olivier Matthys
Volodymyr Zelenskyy is in Brussels on Thursday to meet with European Union leaders as they gather for a summit.
The Belgian capital is the third stop in the Ukrainian President's whirlwind European tour. He visited London on Wednesday afternoon to address Parliament and hold a meeting with Prime Minister Rishi Sunak before crossing the Channel again for a meeting in Paris with Emmanuel Macron and Olaf Scholz.
During his trip to Brussels, Zelenskyy delivered a speech to European lawmakers in which he said his country is defending the "European way of life" and focuses on shared values. 
He later addressed all 27 leaders of the EU to express his "gratitude" for the support given up to now and during a press conference reiterated his call for more weapons, including long-range missiles, and his wish for a fast accession into the EU.
Relive the day's developments as they unfolded in the blog below:
02.09.2023
08:40
Here's what you need to know
Ukrainian President Volodymyr Zelenskyy is in Brussels on Thursday;
Zelenslyy first addressed a special session of the European Parliament plenary, praising what he called "the European way of life" and vowing to continue to defend it;
He then joined EU leaders at their summit. It's the first time he attends in person, having joined virtually most summits last year;
But he is unlikely to walk away with much more than renewed pledges of unwavering support in the face of Russia's aggression.
02.09.2023
17:12
Zelenskyy is continuing his meetings with EU leaders but we will end the live blog here as information is expected to be scarce.
Have a good evening.
02.09.2023
15:30
Zelenskyy's bilateral meetings
As reported earlier, the Ukrainian President is meeting his EU counterparts in groups with France and Germany not taking part as they had a meeting with him last night. 
Here is the order:
Italy, Netherlands, Poland, Romania, Spain, Sweden
Denmark, Estonia, Finland, Latvia, Lithuania, Czech Republic, Slovakia 
Austria, Bulgaria, Croatia, Cyprus, Greece, Slovenia, Hungary 
Belgium, Ireland, Luxembourg, Malta, Portugal
02.09.2023
15:22
Accession talks must start this year: Zelenskyy
Quizzed about his country's EU aspiration quickly during the press conference, Zelenskyy replied in English that "we can start opening the dialogue about our future in the EU" before returning the question to Michel and von der Leyen.
"We need unity in this case, that's why of course we need this year," he said, adding that EU membership is motivating citizens and armed forces to resist and fight.
" When I say this year, Charles, I mean this year, 2-0-23," he said, prompting laughter in the room.
The Commission is scheduled to release its assessment of Ukraine's progress in its membership progress later this year with an oral presentation in the spring and a more formal report in the autumn.
EU officials have described themselves as "impressed" by the results already achieved by Ukraine. The country was granted candidate status in June last year and tasked with advancing on seven requirements.  A number of reforms to strengthen the judiciary and the fight against corruption have since been rolled out by the government.
Von der Leyen added during the press conference that the Commission is "working very closely with the Ukrainian government on the progress" and said "it is impressive to see how highly professional" they are.
"There is no rigid timeline, it is a merit-based process," she said, emphasising that the speed at which they reach the milestones set by the Commission dictates the speed of their membership process. 
02.09.2023
15:13
I can't go home 'without results': Zelenskyy
"I simply haven't got the right to come back without the results," the Ukrainian President also told reporters when asked by Euronews Efi Koutsokosta if he expected to leave Brussels with concrete pledges for more support and military equipment, including fighter jets. 
"That depends on the partners. And for me, personally, it's very important that all the talks we conduct can lead to the result - should lead to the result. And perhaps, that's slightly impertinent, but that's not cynical, that's a pragmatic point of view."
"There are positive signals concerning the respective weapons. We have positive signals that we hear each other and I really want these signals to move to concrete sounds," he added. 
02.09.2023
14:33
Meeting with Macron and Scholz 'very powerful': Zelenskyy
Asked whether the meeting in London was more fruitful than his visit in Paris and Brussels as he walked away with extra training including for pilots, Zelenskyy said that his dinner with the two EU leaders was a "very powerful meeting, a very important meeting and I see this meeting as a positive one".
He also indicated that some of the things that were discussed or that he might have secured, he could not make public, to not give Russia any information about the country's military capabilities. 
He also stressed that he still has a number of bilateral meetings to attend.
02.09.2023
14:21
EU to target €10 billion worth of Russian exports in next sanction round: VDL
Ursula von der Leyen praised the EU's response to the war, stressing that collectively €67 billion have been given in support to Ukraine and refugees. 
"We must do more," she nonetheless said.
Her services will, "in the next few days" a 10th package of sanctions that will target political and military leaders as well as "Putin's propagandists".
"Their lies are poisoning the public space in Russia and abroad," she said.
The sanctions will also include "additional export bans worth more than €10 billion" to derail Russia's ability to wage war and "shake the foundation of its economy"
02.09.2023
14:13
Zelenskyy to discuss fighter jets with Eu leaders
The Ukrainian President told reporters that he will "raise the issue of fighter jets and aircraft" during bilateral meetings later today with EU leaders.
He also said is is "very grateful for the air defence systems", noting that they not only protect Ukraine but Europe as a whole.
02.09.2023
14:05
Next few weeks will be 'decisive': Michel
European Council president Charles Michel kickstarted a press conference with Zelenskyy and Commission chief Ursula von der Leyen.
He promised "maximum support" both militarily and politically from the EU to defend itself on the battlefield and advance its case in international fora. 
He warned that "the next few weeks and months will probably be decisive."