Ukraine war: UN faces allegations that staff banned from saying 'war' and 'invasion'
Comments
By The Cube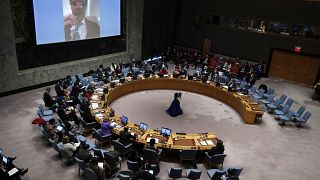 Copyright

AP Photo/Richard Drew

-
The United Nations has denied claims that it has banned staff from using the words "war" or "invasion" to describe the conflict in Ukraine.
According to a leaked email, UN employees were instead reportedly told to use "conflict" or "military offensive".
New documents unveiled by The Irish Times on Wednesday claim that instructions were passed down from top-level officials within the UN, soon after Russia invaded Ukraine.
Ukrainian Minister of Foreign Affairs Dmytro Kuleba shared the reports on social media and said the UN's reputation was "at stake".
Senior spokespeople at the UN have repeatedly denied the media reports and said the claims were "false".
"No such official communication has gone out to global staff to refrain from using certain words," said Melissa Fleming, who leads global communications for the UN.
She later admitted that an email had been sent to "about 25 staff" but that it had been clarified.
Fleming also referred to an earlier tweet from UN Under-Secretary-General for Political and Peacebuilding Affairs Rosemary DiCarlo, which used the words "war" and "invasion".
Russia has always referred to the war in Ukraine as a "special military operation", and the country's state media regulator Roskomnadzor has cracked down on the words that news outlets can use.
Russian citizens now also face up to 15 years in prison if they intentionally spread claims about Russia's military that are deemed to be "fake".
Russia holds one of the five permanent seats on the UN Security Council, and some countries have expressed concerns about the power of large nations within the international body.
UN secretary-general spokesperson: 'It is simply false'
An email seen by Euronews seems to advise staff and issue guidance on "communicating about Ukraine".
"International civil servants have a responsibility to be impartial. It is particularly important during a crisis such as this one," the email reads.
But a deputy spokesperson for the United Nations Secretary-General has denied that any policy on wording existed.
"It is simply false to say that there was any policy to use certain words (like 'military operations') to describe the situation in Ukraine and to avoid others (like 'war' and 'invasion')," a statement to Euronews read.
Ukraine's foreign affairs minister had said it was "hard to believe" that the UN had also censored discussion over Russia's invasion.
"I urge the UN to swiftly refute such reports if they are false," Kuleba tweeted.
The UN spokesperson's official Twitter account initially said the Irish Times report was "fake" but later deleted the tweet.
"It is simply not the case that staff have been instructed not to use words like 'war' and 'invasion' to describe the situation," Fleming said.
Stephane Dujarric, the spokesperson for the Secretary-General, added that the UN had issued no instruction to staff.
"There is a mistaken impression that UN staff were told to avoid using certain words to describe the situation in Ukraine," Dujarric said in a statement.
"At the same time, I would remind you that the staff of the United Nations are international civil servants and uphold the responsibilities that that position entails," he added.
"Accordingly, staff are asked to frame any communications on Ukraine as well as other political matters in a manner that is consistent with the position of the organization and the statements of the secretary-general."
"This applies not only to the ongoing situation in Ukraine but other situations around the world."
In a UN daily press briefing on Wednesday, Dujarric said of the allegations that "people are looking for conspiracies where there is no conspiracy."
"If the Secretary-General uses language, staff who work for him can use that language", Dujarric said referencing previous tweets by the UN Secretary-General António Guterres.
'There's a heap of evidence,' says Irish Times
The Irish Times has reiterated that it has seen evidence that UN staff were instructed to avoid using the words "war" or "invasion".
Europe correspondent Naomi O'Leary told Euronews that there is a "heap of evidence" that UN workers were sent this order.
"I now have a paper trail that not only was this email sent, but it was the latest in a constant stream of instructions ... telling staff to moderate their language," she said.
"This is clearly something that was centrally coordinated and communicated top-down."
The Irish Times has suggested that the UN may have performed a rapid u-turn on policy and retracted its instructions to staff overnight on Monday.
The news outlet had also reported that UN staff have also been banned from "adding the Ukrainian flag to social media profiles or websites".
O'Leary told Euronews that she had been contacted by "outraged" and "appalled" UN staff after the organisation had denied the claims.
"There was shock among the staff that received this email ... this was an interpretation of neutrality which for staff members went too far," she added.
"Among staff, there is a feeling that the organisation has gone excessively conservative to point where it is actually obstructing its work."
Euronews is working to verify the reports further. The United Nations has not directly refuted claims that either an email existed or that such instruction may have come from the UNSG office.
Click on the player above to watch Matthew Holroyd's story in The Cube.