World's biggest iceberg breaks off from Antarctica, says ESA
Comments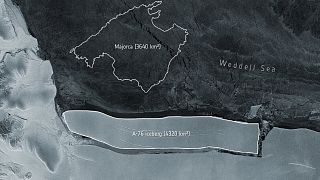 Copyright

Credit: Copernicus Sentinel data (2021), processed by ESA

-
The world's biggest iceberg -- larger than the Spanish island of Mallorca -- has formed after breaking off from Antarctica, according to the European Space Agency (ESA).
Satellite imagery shows the mass of ice is about 170 kilometres long and 25 kilometres wide.
The iceberg, named A-76 by scientists, is now floating in the Weddell Sea after breaking away from the Ronne Ice Shelf in northwest Antarctica.
It is 500 square kilometres larger than the previous record holder and was first noted by the British Antarctic Society.
The 'calving' of the iceberg is not thought to have been a result of climate change. Scientists say periodic calving of large chunks of ice is part of a natural cycle.
Once the iceberg melts, it will not raise the sea level because it was part of a floating ice shelf.
"This is part of a typical cycle that occurs on the Ronne Ice Shelf," said Mark Drinkwater, head of the Earth and mission science division at the ESA.
"In the last few years, a number of icebergs have broken away from Antarctica, these are a synonym for how dramatic changes have become."
Ice shelves along the Antarctic peninsula however have undergone rapid deterioration recently, which some scientists believe could be a result of global warming.
Drinkwater told Euronews that satellite images show fractures around the Ronne Ice Shelf, which indicate that future icebergs will also break away.
"Various ice shelves around Antarctica experience forces of nature in different ways," he said.
"The ice shelves are already floating which means they have displaced their weight in water and so we won't see an appreciable sea level rise from this."
"But this signals that Antarctica is extremely dynamic ... and climate change, in general, does have very broad impacts on the polar regions."
Click on the video player above to watch the full interview.