Students and teachers both suffer as higher education moves online
Comments
By Bryan Carter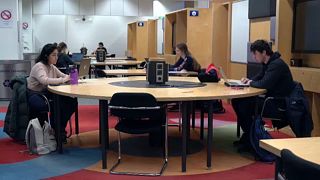 The coronavirus pandemic has plunged European universities into a learning and funding crisis, according to students and academics.
Euronews visited Maastricht University in the Netherlands, where COVID-19 has forced pupils to attend university remotely, away from class and from student life.
Philippe Dols is one of the 300,000 higher education students in Holland. He explained how things have changed since the start of the coronavirus crisis, saying that inspiration is lacking these days.
"Life has become a bit boring," Dols told Euronews. "People at home are less motivated to follow their studies. When they go to the lecture hall, they are more forced to follow the lectures, and even the lecturers are more passionate about giving lectures in real person."
Lack of motivation is just one of the main feelings amongst students, with one study carried out finding that loneliness, isolation, and stress are also serious symptoms of the pandemic.
But for Mrinal Gupta, who studies business at Maastricht University, learning online is only part of the problem. The biggest issue is the absence of social life, especially after the closure of bars, restaurants and clubs.
"One of the biggest parts of university life is the social and party life," Gupta told Euronews. "Once you take that away from university students you realise how much that means to someone because it's not just about partying and having fun, it's also about meeting new people, which you can't do."
Another student, Joséphine Sundberg, believes that the economic downturn caused by the pandemic also weighs heavily on the psychological well-being of students.
"You don't know what parts of the economy are failing, which ones you can apply to, how many jobs there are or what opportunities you actually have that lie in front of you, and that is something that is very stressful," Sundberg explained.
But it's not just students who are suffering from pandemic-related restrictions. Teachers are also experiencing difficulties in pursuing their own academic work.
Patrick Bijsmans, an associate professor at Maastricht University, told Euronews: "Just a day of teaching online costs so much energy. Normally I might do two or three classes on a day and maybe in the evening do a little bit of research work.
"But I am now just done by 6 o'clock. I can do a few emails, but really sitting down to read or to write, I find it really difficult to focus on this right now."
And according to Rianne Letschert, the rector of Maastricht University, this situation is leading to a reduction of grants, which account for half of the university's income.
"Everyone is focusing so much on teaching that the time left to submit the huge grants is becoming a little bit less, so that I think we will feel it in the coming two years," Letschert explained to Euronews.
"Now, of course, we have less income from what we would call 'post-graduate education' or summer courses. So one of our student service centres is really suffering financially."
One recent study has warned against the severe economic and funding risks that loom over higher education in Europe, with calls on the continents' governments to help universities mitigate the impact of the pandemic on the staff, the teachers and, above all, on the students.