Calm at Calais on first working day after Brexit takes effect
Comments
By Euronews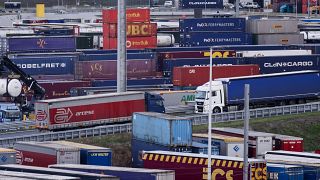 Copyright

KENZO TRIBOUILLARD/AFP
The French port of Calais remained calm on the first working day following Brexit, despite expected chaos.
Only six ferries were scheduled on Monday, far lower than the previously normal amount, but there were no major delays.
Many companies are waiting to see how new regulations will work in practice before sending their trucks across the English Channel.
EU hauliers are also proceeding with caution due to the recent disruption at the borders after a new COVID-19 strain was discovered in the UK before Christmas and thousands of truckers were left trapped.
Europe's major ports have said that they are ready for trade after Brexit, but the preparation costs have not been cheap.
Tom Hautekiet, the CEO of the Belgian port of Zeebrugge told Euronews that it has spent millions developing a new registration system to help with the logistics of checking in.
"We created a company to make a data platform in order to make it visible and transparent for, first of all, the transportation companies and also for the police to see which truck is ok to go. And thus, we use a green light and green lanes for that, so they can already pre-select in Brussels or in Luxembourg the trucks which are on their way to Zeebrugge to see if they are ok to go to the terminal," Hautekiet explained.
But the calm today may not last forever, with added pressure expected to build.
Dublin is home to one of the ports where this is expected, with many truckers looking to take a direct ferry from there to the continent in order to avoid the UK.