French anti-IVF groups march in Paris
Comments
By Euronews with Reuters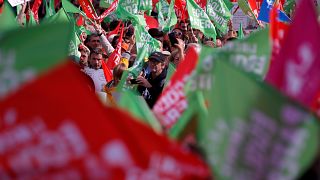 Copyright

REUTERS/Christian Hartmann
Hundreds marched on Sunday in Paris against a recent IVF bill introduced by president Emmanuel Macron's parliamentary majority.
The bill will widen access to medically assisted procreation to lesbian couples and single women.
The "Manif Pour Tous", which vehemently opposed gay marriage in France in 2013, has rebranded itself "Marchons enfants" and will be protesting against the IVF bill in Paris alongside 16 other socially conservative groups.
The groups contend that families need a father figure and that the bill is a slippery slope that could pave the way for surrogacy.
Counter-protests by LGBT groups are expected.
READ MORE: Tens of thousands protest against gay marriage in French cities (from 2012)
Want more news?