Euthanasia in Spain: Death of terminally-ill woman reignites debate ahead of April election
Comments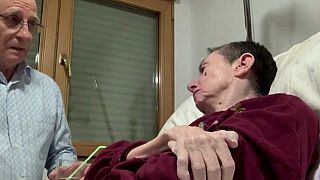 Ángel Hernández was arrested in Madrid on homicide charges after he helped his terminally-ill wife to end her life.
It has reignited the euthanasia debate in Spain and taken the election campaign by storm ahead of voting on April 28.
Hernández spent the night at a police station but was released once he gave his statement to the court the next day.
His wife, Maria José Carrasco, was diagnosed with multiple sclerosis when she was just 31. For thirty years her husband has been by her side, taking care of the 61-year-old until the end.
He is now being investigated over collaborating with a suicide and a possible charge of gender violence.
The 69-year-old told Euronews of the last minutes he spent with his wife and the day he helped her die with a lethal dose of sodium pentobarbital.
"We waited for half an hour," said Ángel. "She was so quiet. I had the liquids there, and I had water, and the substance.
"I asked her, do you want to do it? She said yes. Then I offered the glass to her. I gave her some eye drops. She said 'my eyes are crying'. I caressed her and I said goodbye to her."
Ángel filmed himself offering his wife a glass with the drug to provide proof of her consent.
"I knew I could face prison," he said. "This is what I assumed. What I am more worried about is that they portray me as gender-violent rather than how many years I can spend in jail.
"But this thing of diverting the issue and now it's gender violence? Let's talk about euthanasia, that's the important thing.
"Somebody once said that what is not written, doesn't exist. It's the same. What is not on camera, what you can't prove with an image, it's like it never happened. This is what denialists have been using to ignore the problem. Well, look, it does exist. It happens to many people, in Spain and all over the world."
Spain's election could provide an opportunity for those that want to decide how to end their lives. The final decision is in the hands of the MPs elected at the end of this month.