State of the Union: winter of discontent
Comments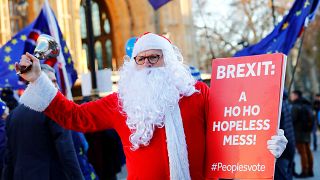 Year's End
Protests in France, in Belgium and in Hungary – it's the winter of discontent in Europe.
The reason why they take to the streets might differ, but they are united in their longing for change and for being acknowledged.
It's not economic pressure alone that drives people to raise their voices and to let them do things they would not do if they were happy.
It's the feeling that their society is drifting towards something unknown, something without comfort zones and rescue nets.
European Winter
If politicians don't pay attention and are not serious about correcting things, the winter of discontent could become long and arduous.
For the protesters are striking at the very fundamental pillars on which our societies are built.
It's the question of who pays what in terms of taxes, who benefits from current fiscal patterns and how does government spend our money?
Governments derive their power and legitimacy from the people.
But if a sizeable minority feels permanently ignored or neglected, democracy is suddenly seen as a self-serving instrument of elites and vested interests.
Which brings us – and I hate to say this – to the 'idiots of the year'.
This is the name of an award a satirical program on German public broadcaster ZDF hands out every year.
The 2018 foreign laureates are Donald Trump, for the fourth time in a row, by the way, and Kim Jong Un, the supreme leader of North Korea.
Certainly the bromance of the year.
And then there was an award for the entire United Kingdom – for "the most confused island in the world", as they put it.
Brexit
Well, those are strong words. But the point is that the ongoing Brexit chaos has sucked up all creativity out of the British political system.
The result is that a no-deal Brexit is becoming ever more likely.
Iroinically, this no-deal Brexit would be rejected by a huge majority in the House of Commons.
Now, you call that smart? Maybe the German TV award was justified.
Here's how a no-deal Brexit might look like.
The general cluelessness among British politicians about how to manage Brexit has created an atmosphere of spitefulness rarely seen in the House of Commons.
Obviously everyone's nerves are on edge, as you can see during this exchange last week between Prime Minister Theresa May and Labour leader Jermy Corbyn.
The controversy now is whether Corbyn called May a "stupid woman" – lip readers said yes. Judge for yourself.
Romania
A country where politics is as entertaining as in Britain these days is Romania.
This week the government survived a no-confidence vote amid an ongoing row over its attempts to weaken a crackdown on corruption.
To make matters even more entertaining is the fact that the country will take over the rotating EU presidency in a few days.
This might spell some fun in the new year, as Romania's own president has called his country "totally unprepared" for the helm of the EU Council.
Look Ahead
And here's a look at what you can expect in the days ahead.
Of course, it's the most wonderful time of the year, as Andy Williams once sang about it.
So on Tuesday, Pope Francis offers his traditional Christmas message Urbi et Orbi, "to the city and the world".
This has typically served as an opportunity for the pontifex to highlight areas of suffering and conflict in the world.
Also on Tuesday, the British Queen delivers her message to the United Kingdom and the other Commonwealth realms.
Last year, she paid tribute to the survivors of the London and Manchester terrorist attacks and gave her thoughts and prayers to the victims of the Grenfell Tower fire.
As this year's message is – in theory – the last before Brexit, she might find some comforting words for all of us.
And finally, on January 1st, we're back in more prosaic territory when, as reported earlier, Romania takes over the EU presidency from Austria.
Christmas tipple
Now back to Christmas. It's a season for good food and drinks. Sometimes even heavy drinking.
A country that is known for its consumption of hard liquor is Russia.
According to a study by Oxford University, the average Russian adult drinks 20 liters of vodka per year – compare that with three liters of vodka an average adult in Britain drinks.
As if this were not enough, an industrial designer in the Russian town of Chelyabinsk has created chocolate dumplings with pure vodka filling inside.
Although sweets with alcohol are hardly new, first appearing in France during the 17th century, these differ from competitors because of their strong Russian identity, their maker says.
He wants the vodka sweets to become a proud national symbol of Russia, like handpainted matryoshka dolls or balalaikas.
Well, we'll see about that... For now, it's certainly something that can take you through the holidays without doing much else.