People stuck in Bosnia: up to 85% are economic migrants
Comments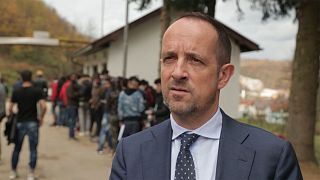 Euronews reporter Hans von der Brelie met IOM's Western Balkans Coordinator Peter Van der Auweraert in the Bosnian capital of Sarajevo. They met at a former military baracks that the Bosnia-and-Herzegovina authorities have transformed into an official accommodation center for migrants and refugees stranded in the country.
With the support of the International Organisation for Migration - the UN's body in charge of managing global migration flows.
When the Euronews team arrives, groups of Somali and Pakistani men are waiting outside. Only a few days after opening the center - which houses 400 people - is overcrowded. Other accommodation centers are also experiencing a similar overflow in the recent weeks.
For this interview, Euronews wanted to find out answers to questions like:
How many migrants entered Bosnia-and-Herzegovina and where did they come from?

How many have made their way into neighbouring Croatia

How many are stranded at the external border of the European Union?

Should we use the term "migrants" or "refugees"?
We wanted to find out if there could be a repeated episode of 2015, where over 1 million refugees crossed over into the EU. We wanted to find solutions to more effectively crack down on people smugglers. Could there be more effective legal ways into the EU for those wanting to work and build a life?