British village outraged over pro-Trump midterm campaign 'smear' | #TheCube
Comments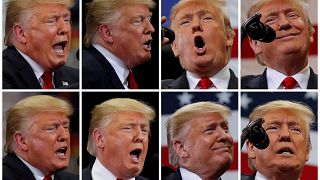 Copyright

REUTERS/Carlos Barria
A Republican politician in the US has angered the residents of one small village in Essex, United Kingdom, after using a picture of the village in a campaign advert as an example of the "foreclosures, unemployment and economic recession," Americans could expect for their country if they vote for the opposition.
The advert was posted to the Facebook page of Republican congressional candidate Nick Stella in the leadup to next week's US midterm elections.
"Only YOU can stop this from becoming a reality," is the message pasted over a picture showing run down houses and a potholed street.
"Help President Trump keep America on track and thriving," it continued in a note underneath.
But this street isn't in Stella's district of Illinois, nor is it even in the United States. The picture actually shows a street across the Atlantic Ocean in the small seaside village of Jaywick Sands, United Kingdom.
The streetview image from Google Maps below shows Austin Avenue in Jaywick in 2012, the same street seen in the campaign poster.
Jaywick itself has hit national headlines in Britain after government reports found it to be the most deprived neighbourhood in England in 2010 and 2015, due to high rates of unemployment and crime.
But Google streetview and the campaign photo showing the street in the same condition are outdated.
As Tendring Council pointed out on Twitter, Jaywick Sands underwent a £6.5 million redevelopment project in 2017, and no longer looks the same. The new roads, which have been resurfaced, can be seen in updated satellite imagery of the same street and photos shared by the council.
Tendring District Council Cabinet Member Paul Honeywood said "it was appalling to use the image for political gain in this way," in a statement posted to Twitter.
"I know that many Jaywick Sands residents will be outraged at being smeared in this way and rightly so."
"Perhaps Dr Stella would like to come down and visit Jaywick Sands to learn about how we really get things done, rather than engaging in this sort of negative campaigning?"
Locals react to the campaign
Kester Brewin, a freelance writer whose great grandfather, developer Frank 'Foff' Stedman, created Jaywick Sands, tweeted his frustration to see the village "sullied in a cheap shot by the US right." He added his wishes to eventually write a novel about his grandfather and the story of the town.
Euronews followed up on Brewin's tweet, who told us "Jaywick was once celebrated as the happiest place in England, and my mum has very fond memories of childhood holidays on the (still) fantastic beach."
"Disagreements and delays over infrastructure caused difficulties for many years, but with these behind them, it's so good to see Jaywick getting back on its feet."
Filmmaker Penelope Read, who created a film about Jaywick Sands called 'A Diamond in the Rough', told Euronews that Stella's campaign made her "blood boil," adding that she would even consider making a sequel to send to the congressional candidate.
"For a start, Jaywick doesn't look like that anymore. The council have improved the roads and the environment in all sorts of ways since then."
"There's a very strong sense of community, we have beautiful beaches, and everybody is starting to take pride in the place. To see it used as some kind of warning or insult makes my blood boil."
In a similar sentiment to the statement from local councillor Paul Honeywood, Read also offered Stella a personal introduction to the village.
"If he'd like to come over to this country, I'd be delighted to show him round Jaywick and introduce him to the real people, the real town and the real community," she said.
Euronews has reached out to Nick Stella's campaign for comment, but is yet to receive a response.
The Facebook page, where the campaign advert featured, has since been taken offline.