Fighting for LGBTI rights in Europe
Comments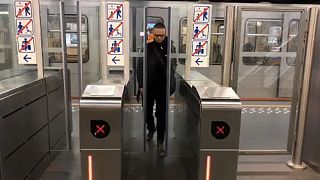 This is Mirka Makuchowska, an LGBTI activist from Warsaw, Poland. A challenge in a country that has not seen one legal change for LGBTI equality since 2004.
"When I go for a walk or go shopping with my wife, we don't hold hands. Sometimes we do hold hands, but very rarely and we usually do something like this…. looking around to see if someone is around and sees us because it is dangerous in Poland…… and that is Warsaw, so imagine what it is like in other cities," Mirka remarks.
"When you go to a march in Poland outside of Warsaw, you have to prepare yourself that bottles and other objects are going to thrown at you….. this is the reality."
Mirka is in Brussels today meeting activists from all around Europe and beyond. The organisers - ILGA Europe - who represent the lesbian, gay, bisexual, trans and intersex community in Europe are worried.
"A huge portion of activists that we work with across Europe are under increasing pressure. They are at the forefront of so many of the negative trends like attacks on democracy, the closing space for civil society, the populist movement, the far right. You name it," says Evelyne Paradis, Executive Director, ILGA-Europe.
"Fewer and fewer governments are taking further action when we know that hate crime legislation is needed, when we know the anti-discrimination legislation is needed and we know that protection for LGTBI asylum seekers is needed and so much more on trans rights," Paradis continues.
"Romania and Bulgaria are really sitting out at the bottom of our index, a country like Italy which is one of the founding members of the European Union sits below some of the countries in the Western Balkans."
EU Commissioner Frans Timmermans has promised to put more EU money on the table, but recognised the challenges ahead.
"There is a long way to go in many of our member states, we can only encourage the community to hold their courage, to keep fight out for this and we will be standing right next to them to support them in their fight," Timmermans adds.
A fight that Mirka and her colleagues will never give up.