Locals and tourists share frightening accounts of deadly Indonesia earthquake | The Cube
Comments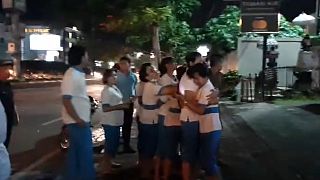 Copyright

Facebook/Afrinda MeyMey Gunawan
A magnitude-7 earthquake struck Indonesia's islands of Lombok and Bali on Sunday evening, killing dozens of people and injuring hundreds more. Sunday's quake comes just a week after another earthquake struck the same region, which is popular with tourists, killing more than a dozen people.
Footage posted to social media from the time of the quake itself shows people fleeing out of buildings and into the streets to safety. The following video was captured in Bali and shows a group of people clutching each other in the street.
Widepsread damage was also reported on the Gili islands, an archipelago that is also popular with tourists situated just north of Lombok. These photos were captured on one of the Gili islands and shows fallen walls and homes reduced to rubble.
People wait for evacuation
Dozens of people on the same island rushed to the coast and awaited boats to evacuate them to safer ground. Again, this video shows the beaches packed with people waiting for the evacuation.
Euronews spoke to Australian citizen Liam O'Brien, who was one of the stranded people on Gili Trawangan. He said he was "traumatised" by his experience and was waiting for a boat to take him to safety.
In a Facebook post, O'Brien also said there was no access to electricity and very limited water.
"I am in a group of 20 people, some have been injured while running from the earthquake," he wrote. "Many buildings have collapsed on the island and people have been trapped in collapsed buildings. Can not confirm the extent of injuries on the ground level."
Austrian citizen Jeannine Kapl, who was also situated on Gili Trawangan, posted to Facebook with a plea for help.
"So many people injured and need help," she said. "Please government, whoever...help bring people to hospital. Gili Trawangan needs help!"
In north Lombok, one of the worst affected areas, Indonesians posted desperate messages asking for help in the immediate aftermath of the quake. Datu Renner posted photos of an injured child and said his house had been levelled. "Please friends send emergency help," he pleaded.
International reaction
The earthquake also attracted reactions from a number of high profile international figures. Julie Bishop, the Australian minister for foreign affairs, tweeted her condolences to families of the victims, and provided advice to Australians stranded in the region.
Similarly, US Secretary of State Mike Pompeo also tweeted his condolences, saying the US was "closely monitoring the aftermath."