View from Vienna - migration set to dominate Austria's EU presidency
Comments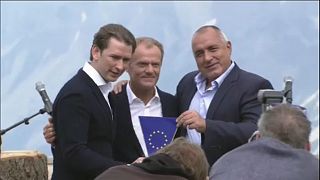 Austria's taken over the rotating EU presidency - one that's set to be dominated by migration, a divisive issue that's deepened Europe's fault lines.
Vienna will be using its time in the hot seat to try and curb any further waves of arrivals.
"For the moment it looks like the Austrian government is taking exactly one side, namely the side of the Visegrad countries. It is not at all interested in any humanitarian response or in any response that reflects solidarity within Europe," said Ska Keller, a German Green MEP.
Political tremors
Fewer migrants have come to Europe this year, but political tremors are still being felt across Europe. Populist, anti-immigrant parties are on the rise in many countries.
"I always said the Australian model should be the role model for us," said Austrian Chancellor Sebastian Kurz.
"Because there they managed to stop the drowning completely. I was massively criticised for that. But now the debate at the European level goes in the same direction. If there are centres outside of Europe, if there are disembarkation centers as we call them, then it does not make sense anymore for the migrants to start the dangerous journey across the Mediterranean."
Ex-communist easterners, headed by Poland and Hungary, still refuse to accept a share of new migrant arrivals - to ease the pressure on Greece and Italy.
Hungarian MEP György Schöpflin told Euronews: "I think everyone knew the situation before, but it was too early to be seen as right. I think this is now the situation of Hungary and the Visegrad countries. 
"We said from the beginning, from 2015 that the approach being made was not the solution. The Schengen borders should be protected and the Dublin system should be applied. And now many more countries feel this is the real solution. But they won't admit that the Central Europeans were right on this issue."
What future?
EU leaders had marathon talks over migration last week - they struck a deal, but how - and if - the actions will be implemented is still up in the air.
Keller added: "Do we have a democratic Europe in mind, do we have a social Europe in mind or do we have in mind a Europe of fear with closed borders where you have a nationalist interest that prevails, where you mistrust your neighbours. This is in the end what it is about. 
"Many governments including the Austrians are using migration in order to cover up all other problems. For example they are cutting the social security in Austria. But by talking about the migration all the time, they are trying to escape the other issue."
You can expect to hear a lot more about migration with Austria in the presidency for the next six months.