Protesting taxi drivers snarl up Brussels
Comments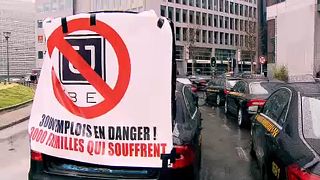 Hundreds of taxi drivers have snarled up central Brussels in a protest against Belgian plans to liberalise the market - and against Uber.
Many of the cabs parked up around the Schuman roundabout, in front of the EU institutions - much to the disgust of some commuters.
"It's not normal, it's not fair," said one worker, "It's not fair for us who work too, we have to take the streets and go to work. I had to stop my work because of this demonstration."
Convoys of taxis left from strategic points and blocked roads as part of the protest.
Taxi drivers from other Belgian regions were also expected to join, to show solidarity.
One taxi driver told Euronews: "For three years we have seen the salary decreasing by 30 to 40 per cent. We're not able to pay our tax any more, we cannot pay our rent."
Uber has been the focus of anger from traditional taxi drivers for years - accused of circumventing local regulations on safety, tax and licensing.
But one customer was full of praise: "Uber offers a better service than taxis, in the sense that we have more confidence because we know who will drive us. Often it is cheaper and we can monitor the route."
Uber drivers say the way they're run provides transparency for the authorities.
"Every route, for example, that we do for Uber or for a different platform, they are tracked so the state can know how much we have earned over a year, while taxis don't have this," said Fernando Redondo, a limousine and Uber driver.
But that won't calm the traditional taxi drivers, who think their working life is under threat - and their livelihoods at risk.