Fake or real? EU moves to tackle 'fake news'
Comments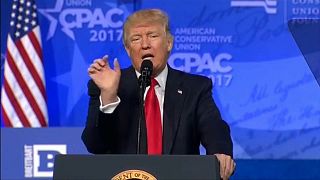 Dozens of experts have been in Brussels to talk 'fake news' and how to counter its online spread. 
The EU's so worried about the phenomenon, made famous by US President Donald Trump's continued references to it, that it's drawing up a battle plan.
It comes after allegations of Russian meddling in the US elections to stop Hillary Clinton winning and after Emmanuel Macron's team complained his French presidential campaign was targeted by hackers.
No end in sight
"I don't think that we're ever going to stop fake news as we know it," Beth Hewitt, a Senior Lecturer in Media Practice at the UK's University of Salford, told Euronews. 
"I think the key is to give people the tools to decipher and to work out where they want to go with their reading and what they're finding out."
Tuesday's Brussels meeting saw 100 experts - from the media, academia and others – come together to help advise the EU Commission, as it formulates its fight.
A threat to democratic values
"What is new is the speed of the spread and the dimensions, actually that's political, societal," Mariya Gabriel, EU Commissioner for Digital Economy and Society, explained to Euronews.
"Fake news can even threaten our values as a democratic society. That's why it's so important to have an inclusive process and to try to find some solutions."
With technology making it so easy for us to go online, the net has become a paradise for the fakers.
"Everybody should be able to say what he wants and to write what he wants, especially in the era with internet. So fake news is basically journalism today," said one woman in Brussels.
A man added: "I think people shouldn't trust in all this social media anymore. They should read the real newspapers."
The EU Commission's due to unveil its plans to tackle fake news this Spring.