Fríða Rós Valdimarsdóttir: "we must keep on fighting for equality"
Comments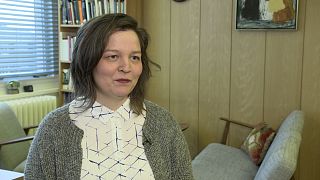 Fríða Rós Valdimarsdóttir is the chair of the Icelandic Women's Rights Association. While acknowledging that Iceland has achieved a lot in terms of gender equality, she tells euronews reporter Valérie Gauriat there is still a lot to do, to ensure full and equal rights for women in a country deemed the world champion for gender parity.
We see inequality everywhere. It's in the media, it's in the films we make, it's in every layer. We always have to keep on fighting.
Fríða Rós Valdimarsdóttir:
"When you look at all the indexes that were made, you see that Iceland is ranking very high. Living in Iceland, they don't feel the equality. There is a lot of inequality, and if you're the best it makes me a little bit sad to say that there's nowhere better than here. But we're also doing very interesting things, we're trying stuff, and we work towards equality and it shows that it's working, what we're doing.
The women's movements have been very active in Iceland for over 100 years. Of course that's been in other countries. But I think that we have some kind of special point that goes with the society we live in. We live in peace for example. We don't have to use our time for war and we don't have an army. That's also special. So we can use our time to make the society better. For human rights in general. There we have focused on gender equality and I think that is because the womens' movement have been so active. And very visual. And we had this strike that's getting quite famous, in 1975, where women came together. The biggest part of women in Iceland at the time just showed up. And they also showed up in 1985, and 2010, and 2016. And do this over and over again. And with that we are nurturing our solidarity.
First, at the beginning of the 1900s, women collected signatures to get the right to work. It's a long time that we saw that this works, women sticking together, working together, doing it together, putting a little effort to it, showing up, getting some signatures, whatever it needs to build solidarity and the feeling of the majority, the force of the majority, to change our society. And it works and we do it over and over again.
For 2 years we have had again and again, like revolutionary changes when it comes to sexual violence. Like "MeToo". Me Too is very big in Iceland. It's the biggest social change I have seen. I'm fourty. And I have never seen my society change as much as it's changing now. But we are so far from making our society peaceful. In that sense…Like security for women. Thats' something we really have to focus on. And look at all our system, where can we make changes for the security for women. And we see inequality everywhere. It's in the media, it's in the films we make, it's in every layer. There are so many changes we can make. I want to focus on gender violence because I believe we can change in that sense. We can make changes in the system that will actually work. Just like we're doing with the payment, the salaries. And we kind of know what to do, we just have to make the changes and put some effort, some money into it so it will be effective
Valérie Gauriat:
Would you say that in Iceland, girl power can actually change politics?
Fríða Rós Valdimarsdóttir:
"Girl power makes a huge difference. Last year, in 2017, the government collapsed because of feminist issues, because of sexual violence, because we do not tolerate sexual violence anymore. After that, we had a backlash of ten years when it comes to the percentage of women in the parliament, from 48 percent to 38 percent. Last time we had that was in 2007. So we gain something, and then we lose something. That tells us we always have to fight for it. Keep on fighting for it."