Farmers have a beef with Brussels
Comments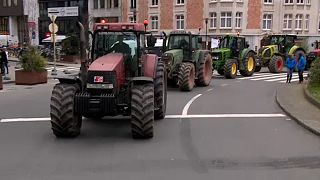 EU farmers are angry that the EU is relaunching its free-trade agreement with South America's Mercosur - and have taken their protest right to the heart of the European capital.
A meeting is planned between the EU's trade commissioner and ministers. The fear is import quotas will threaten european meat production.
"This is the death for the European sector, given that the cost of production is already much too high compared to the selling price. Additional meat imports to the European market will only make the problem worse; the products do not meet all European production standards, there are not guarantees on traceability, they use soya beans intensively, it also contains glyphosate residues," said** Hugues Falys** from the Belgian Farmers' Federation.
Brexit could also play a part. A hard Brexit with steep trade tariffs could make it more difficult to sell meat products abroad.
"We will likely see a negative hit on beef prices to the level of 16 per cent which will cost 5 billion euro to the european farmers," Joe Haley of the Irish Farmers' Federation told reporters.
EU agriculture ministers are also discussing the Common Agricultural Policy - one of the famous but most contested EU policies.
The current regulations expire in December 2020. Some member states to bring its management back to national level.