We're not closing any universities, Hungarian official tells Euronews
Comments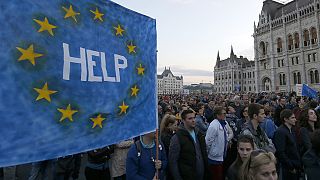 Hungary has no intention of closing any universities, a higher education official has told Euronews.
It comes after controversial legislation, which has sparked protests against the right-wing government, was signed by the country's president.
It's feared the law could force out the Central European University, which was founded by US financier George Soros, a global campaigner for liberal "open society."
Visiting Brussels, László Palkovics, Hungarian Secretary of State for Higher Education in English, told Euronews: "When somebody talks about hurting the autonomy, closing universities, either universities belonging to Mr. Soros or someone else, this is simply not true.
"Nobody is going to close any university, the Hungarian government opens universities, opens educational new locations, but not closing them," he continued.
"The autonomy of universities, whether it's in Hungary registered, working university, foreign university, it is stated in the constitution that university autonomy should not be.. cannot be hurt: So the government has no such target."
The university issue, along with Hungary's proposed tighter rules for NGOs and a campaign called "Stop Brussels," will be discussed in the Belgian capital on Wednesday.
"There are issues like the NGO legislation, the so-called.. 'Stop Brussels' questionnaire. There is the higher education bill. There are issues that have a certain degree of connection amongst ourselves and I expect the College (of Commissioners) to discuss globally on all those," said Margaritis Schinas, European Commission spokesperson.
Orban is not expected to back track on the higher education legislation, which is expected to come under the scrutiny of the European Parliament later this month.