Syria's Assad must ultimately go, says German foreign minister
Comments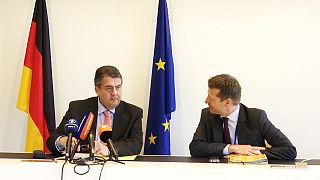 Syrian President Bashar al-Assad must ultimately go. That from Germany, as EU foreign ministers discussed the country's future.
The European Union is pushing for a political transition in Syria, where hundreds of thousands of people have been killed in a conflict that's been raging since 2011.
"The EU believes that it will be impossible to go back to a situation in Syria that is the one of seven years ago, after seven years, six years and a half of war it seems completely unrealistic to believe that the future of Syria will be exactly the same as it used to be in the past," said EU foreign policy chief Federica Mogherini.
Germany's foreign minister says creating a stable environment has to be the priority. But the country's eventual future should be one without Assad.
"The political process must not be put aside, one which must ultimately lead to Assad no longer being the President of Syria – it means electoral reform, constitutional reform, elections and reconciliation within the country," said Sigmar Gabriel.
"This in the context that people might say: There is now an enemy who is worse, the terrorists, and if necessary, we also work together with Assad and his regime and possibly give him areas that have been freed from terrorists."
It comes after the US Ambassador to the UN said American diplomatic policy is, for now, no longer focused on making Assad leave power.
Brussels is hosting a conference this week dedicated to Syria's future, co-chaired by the EU, Germany, Kuwait, Norway, Qatar and the United Nations.