Merkel is 'problematic' - EU politicians react to fourth Chancellor bid
Comments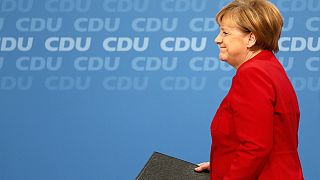 Candidate for a fourth term, German Chancellor Angela Merkel could confirm her status as the most influential leader of the European Union again next year.
As head of the top European economic power, she could also beat a record of longevity in her post.
Merkel appears to be a protector of European values ​​in the face of rising populism. But what do other EU politicians make of her new bid?
In Strasbourg, one Czech MEP told Euronews that her migrant policy has caused some ripples back at home.
"I see that Angela Merkel is problematic because she was one of the big promoters of the quota system. And this quota system does not function in (the) whole (of) Europe," said Tomas Zdechovsky, a conservative MEP.
But one German Green MEP said that Merkel has not done enough on migration.
"There was one very good thing that Merkel did, namely she said you can come to Germany, after the refugees have entered the EU (and) were stuck in Hungary. I this decision was very good," said Ska Keller.
"Afterwards unfortunately we have seen the backlash in the asylum policy of the government. Now (there are) a lot of restrictions, for example, when it comes to family unifications."
One Portuguese MEP even accused Merkel of fuelling populism in Europe because of her economics.
"Are we going to allow the inequality to grow in our countries, among our countries in the eurozone, and therefore feed the populist narrative which is politically so destructive for the union," commented Ana Gomes, a centre-left MEP.
"I think Germany has a tremendous responsibility. We cannot continue with these policies of austerity that indeed stifle growth in the EU."