Scotland to publish new referendum bill
Comments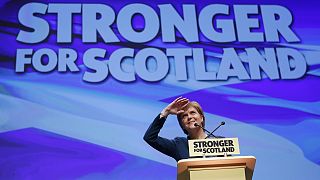 Scotland will publish a fresh independence referendum Bill for consultation next week.
First Minister Nicola Sturgeon says it is part of her strategy to ensure that Scotland's voice is heard in the negotiations to take Britain out of the European Union.
"There is no rational case for taking the UK out of the single market and there is no authority for it, either," Sturgeon told delegates at her Scottish National Party conference.
She added that it would amount to an act of "constitutional vandalism" to try to ignore Scotland's parliamentary voice on the issue.
Nicola Sturgeon to publish new Scottish referendum bill next weekhttps://t.co/mbltirGqxhpic.twitter.com/c6Y7B2Tms9

— PoliticsHome (@politicshome) October 13, 2016
The 2014 referendum
Scots rejected independence in 2014 by 45 to 55 percent.
Scotland voted by 62% to keep its EU membership in June, but still faces leaving the EU because the UK as a whole voted to leave.
The country wants to maintain its strong links with Brussels.
Theresa May
The UK prime minister is refusing to allow the parliament at Westminster or any of the regional assemblies to vote on the terms of the Brexit negotiations with Brussels.
Jobs
The Scottish first minister also suggested that Brexit may cost Scotland 80,000 jobs.
"People did not vote for our businesses to be confronted with customs barriers or for our holidaymakers to have to apply for visas," she said.