German officials fret over Belgian nuclear plant
Comments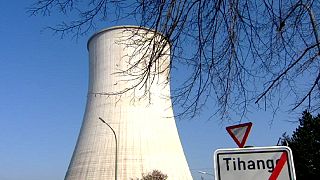 A nuclear power plant close to the Belgian city of Liege is causing angst amongst residents close to the German and Dutch borders.
A reactor at Tihange was switched off recently for checks owing to ongoing safety concerns. But Belgian officials insist there is no cause for concern.
"For us, it works safely. We believe that it is sufficiently safe," said Sebastien Berg, a spokesperson for the Federal Agency for Nuclear Control.
Next Tuesday, a court in Brussels will decide if the reactor should be closed down.
The decision to switch on the 40-year-old reactor has caused some local officials to worry.
The German city of Aachen has already filed a lawsuit and the federal government plans to send inspectors to the area.
"However, when there will be the case of an great technical incident, then there is no real protection in terms of controllability of a situation, but we will suffer a great damage in the region. Therefore the movement is so great today striving for a shutdown of Tihange." said Marcel Philipp, the city's mayor.
But residents living close to Tihange say closure would lead to the loss of several hundred jobs.