Hungary's 'populist model is taking hold across the whole of Europe,' says analyst
Comments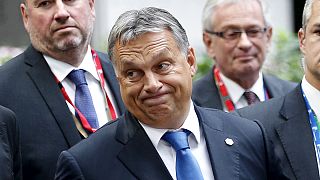 A Brussels-based newspaper correspondent has told euronews that Hungary's 'populist model' is taking hold across the whole of Europe.
Jean Quatremer, who works for Libération, says moves are being made to reduce freedom and the rule of law.
It comes after Sweden and Denmark tightened border controls and Hungary threw up barbed wire fences in a bid to tackle the migrant crisis.
Grégoire Lory, euronews: "We see member state after member state reintroducing border controls. Don't you have the feeling that the Hungarian response to the refugee crisis is prevailing in the EU?"
Jean Quatremer, Libération newspaper: "Six months after the refugee crisis started, there was indeed a true evolution or revolution in Europe.
"The Hungarian Prime Minister Viktor Orban was the first who responded by building a fence, and everyone noticed him because it was pretty amazing that Hungary, the first country that had broke down the Iron Curtain in 1989, rebuilt a fence on its border with Serbia, then with Croatia.
"Everybody named and shamed him by saying 'this is no surprise from him, he is an authoritative Prime Minister, etcetera.'
"On the other hand everyone praised Angela Merkel for quickly opening German borders, she said 'listen we really can't let these people remain in such disastrous humanitarian situations such as in Budapest's railway station, or in Austria, so I will open Germany's borders.'
"And six months later, everyone has reinstated border controls, countries have built fences and no one raised any objections.
"We let people die in the Mediterranean, because every day there are children, like Aylan, dying at sea, no one cares and some say that ultimately Orban may have been right before everyone else – this is the right model, the construction of the wall, watchtowers, electrified barriers, we do not want these Muslims.
"So it's pretty scary, because it is the return of 'everyone for themselves,' and some think that sovereignty, in other words a national response, will solve a problem that the EU has failed to settle."
euronews: "The European Commission is trying to defend the Schengen area, but it seems the message isn't getting through?"
Jean Quatremer, Libération newspaper: "Clearly the European Commission does its upmost, and we can only praise the work of Jean-Claude Juncker, he tries to save the EU's body of law.
"But today, it's every man for himself, because France is very happy that the problem is in Italy, and Italy is very happy that the problem is in Greece and so on, so everyone passes the hot potato.
"And consequently, we will see in the future that there will be absolutely unmanageable geopolitical tensions between member states.
"As a German official told me a few months ago, what happens with the management of the refugees crisis is a root for conflicts."
euronews: "Is it a political or ideological victory for Viktor Orban in this debate?"
Jean Quatremer, Libération newspaper: "I truly believe it's an ideological victory for Viktor Orban. His populist model is taking hold across the whole of Europe.
"Everyone today is introducing more or less equivalent measures, even the French left, and let's not mention the Slovak left which takes an even tougher stance.
"So everyone is trying to reduce freedom, the rule of law, it reminds me of the 1930's: this return to national borders, a will to limit democracy, to limit freedom of speech."