Migrant crisis re-boots Europe's relations with Turkey
Comments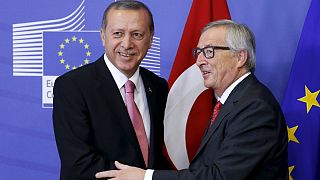 The continuing influx of Syrian migrants, seeking a new life in Europe, has thrown the EU's relations with Turkey into the spotlight.
Turkey is a transit country, with many people setting their sights on ultimately reaching Germany.
Struggling with the scale of arrivals, Europe is now dangling the prospect of financial aid and faster EU membership in front of Turkey – in a bid to get help in stemming the flow.
A longtime opponent of the membership bid, German Chancellor Angela Merkel now says it should be injected with "new dynamism."
During a recent visit to Ankara, she also signalled her readiness to loosen visa requirements for Turkish citizens and to explore allowing leaders to attend EU summits.
"We hope that stalled relations between Turkey and the European Union will be revived and accession talks will be accelerated. We hope that both Schengen and readmission agreements will go into effect in July 2016," said Ahmet Davutoglu, Turkish Prime Minister.
The readmission agreements relate to Turkey taking in migrants sent back by the EU, something Merkel wants to speed up.
Ankara has said that it will only agree if there is progress on liberalising the visa regime.
EU leaders said last week that they had rubber stamped a migration "action plan" with Ankara. Three billion euros of help was apparently discussed. Turkey says it wants a better offer.
The EU is also looking at granting Turkey "safe country" status in the asylum process. Something that is supported by the President of the European Commission.
"I am strongly in favour seeing the visa issue moving forward, being accelerated. I'm of the opinion, as I've said it in the European Parliament and elsewhere, that Turkey has to be on the list of safe countries," said Jean-Claude Juncker.
But many obstacles remain in the way of Turkey joining the EU.
There is the dispute over Cyprus. Critics also point to Ankara's human rights record, its conflict with Kurds and recent media crackdowns.
euronews interviewed Beril Dedeoğlu, Turkish Minister for EU Affairs.
euronews, Gulsum Alan: "The migrant crisis has rebooted EU-Turkey relations, which were pretty much at a dead end.
"The EU wants to work with Turkey. An action plan has been drawn up.
"Turkey and the EU each have their own expectations and demands. Where are we with this action plan?"
Beril Dedeoğlu, Turkish Minister for EU Affairs: "We regret the fact that EU-Turkey relations were relaunched due to the Syrian crisis. We regret that this was done on the back of a human tragedy. That concerns us.
"Regarding the readmission agreement and visa liberalisation, it was a process that was already ongoing even before the Syrian crisis."
euronews: "Was it sped up?"
Beril Dedeoğlu, Turkish Minister for EU Affairs: "This has now taken the shape of a package. The refugee issue is a complicated one. This is why negotiations continue today.
"What we mean is that it's not a problem for a single country. We must share responsibilities. The Turkish and European side in particular, especially on the side of the European Commission, there is a real will to resolve this issue. The current crisis shows that our destiny is shared. What's important now is that we continue to develop our relations. This is what comes out of this."
euronews: "Visa liberalisation is a long-standing demand of Turkey. But when the talks come about, they only concern certain people. It's quite partial. What are Turkey's expectations on this?"
Beril Dedeoğlu, Turkish Minister for EU Affairs: "That the citizens of the candidate countries benefit from free movement within the Schengen area."
euronews: "All citizens?"
Beril Dedeoğlu, Turkish Minister for EU Affairs: "Yes."
euronews: "The EU sees this differently…"
Beril Dedeoğlu, Turkish Minister for EU Affairs: "That will not happen right away. It will take some time. I understand the fears of Europeans. But Turkish citizens also have expectations."
euronews: "Several countries have signed readmission agreements but it is very complicated to implement them. How Turkey will keep migrants on its territory?"
Beril Dedeoğlu, Turkish Minister for EU Affairs: "This is a common procedure for countries who are members or want to be a members of the EU. The numbers are not as high as we think."
euronews: "Is it working? How can refugees be prevented from leaving?"
Beril Dedeoğlu, Turkish Minister for EU Affairs: "First of all, it works. Turkey has on its territory two and a half million Syrians. Those living in refugee camps have received nearly eight billion dollars. Turkey never applied an door policy to be in line with the EU. Turkey didn't know and couldn't know that it would be the EU to make this suggestion."