Surge in executions in death penalty countries
Comments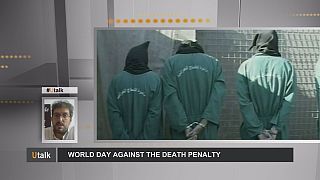 "The 13th World Day against the Death Penalty will take place on 10th October. What is the current situation worldwide?" asks Ben from London.
The response is from Raphaël Chenuil-Hazan, Executive Director of Together Against the Death Penalty and Vice-President of the World Coalition Against the Death Penalty.
"About 30 or 40 years ago, two thirds of countries worldwide used to apply the death penalty regularly. Today it's the exact opposite: two thirds of UN countries have abolished the death penalty, either in law or in practice.
Executions surge
However, in recent years, we have seen a surge in executions particularly in countries which had not executed prisoners for years or were part of a moratorium process.
Executions and death sentences are mostly due to drug-related crimes.
ECPM Exe Dir Raphael Chenuil Hazan : #DeathPenalty is only revenge #MakeMY100thpic.twitter.com/Z26szPeKyW

— AI Malaysia (@AmnestyMy) 11 Juin 2015
Europe is almost 100% abolitionist except Belarus. Latin America is nearly 100% abolitionist except for some Caribbean islands.
Sub-Saharan Africa is more and more abolitionist. And the Maghreb has not executed prisoners for more than 20 years now.
Death penalty zone
So, to sum up, the poles of executions and death convictions can be found in 3 areas: the Middle East, Asia and then I'll add to these two areas, the unfortunate US exception.
It's still very difficult to collect data especially from China and Iran for instance. According to the figures given by Human Rights NGOs, around 600 to 700 people are executed every year worldwide. But actually it must be around 3,000 to 4,000.
The terrorist threat does not justify maintaining the death penalty as we've seen in Iraq for example. The more violent the response of the Iraqi State through the death penalty, the more terrorism there has been. As we abolished slavery, we must put an end to this totally cruel, inhuman and degrading punishment."
_If you would also like to ask a question on Utalk, click on the button below_