Getting healthcare in another EU member state
Comments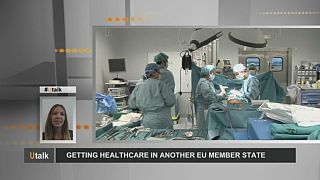 How to get medical treatment in other European countries is a concern for many EU citizens.
John in Weston-super-Mare, (England) asks Utalk:
"I have been diagnosed with a condition that requires surgical intervention. However, I can only get the surgery in my country in a couple of months. Is it possible to get it in another EU country and have my health insurance cover the costs?"
The answer is from Nina Koudelkova, Europe Direct Communication Officer: "You have the right to medical treatment in another EU country on the same terms and at the same cost as people living in that country. However, some countries may restrict access to some types of healthcare because demand for treatment is higher than their capacity to provide it.
Finding healthcare abroad
To find a hospital or other healthcare provider offering the treatment you need in another EU country, you can either: – ask your local health insurer, – ask the National Contact Point of the country where you are considering treatment, or – find a provider yourself directly.
There are two ways to cover the costs: – First, your health insurer can cover all the cost directly. This system applies to public health care providers only. You must ask your insurer for prior authorisation before travelling for treatment. And if granted, you will then be provided with the appropriate application form, called an S2 form.
Who pays?
Reimbursement will usually be arranged directly between the institutions involved so you won't have to pay for the treatment.
Alternatively, you can pay for the treatment yourself and claim reimbursement afterwards. This option covers all providers, whether public or private. You will be reimbursed up to the cost of that treatment in your home country, but only if that treatment is one you are entitled to at home. You might still have to apply for prior authorisation.
Whichever option you choose, your health insurer cannot refuse your request for prior authorisation if the specific treatment you need is not available in your home country, but is covered by your statutory health insurer, and if you can't get the treatment you need without delay in your country.
For more information and for the details of theNational Contact Points. For planned treatment, call 00 800 6 7 8 9 10 11 or go to theeuropa.eu website
If you would also like to ask a question on Utalk, click on the button below