Africa wants a 'Marshall Plan' to tackle Ebola
Comments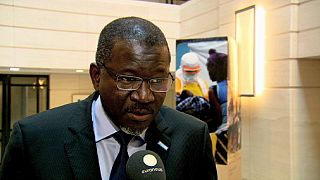 Countries hit by the Ebola epidemic want a Marshall Plan to tackle the disease, African leaders said at an international conference in Brussels on Tuesday.
Heads of state from the three worst-affected countries said the international community should cancel any outstanding debt and provide assistance to boost their economies.
The leaders of the Guinea, Sierra Leone and Liberia made the call at a meeting with EU, UN and World Health Organisation officials.
"It is obvious that our economies have suffered deeply. We want the World Bank to set up an advisory group to try and bring in donors for this fund so that we can with the help of the World Bank and the EU, revive our economy.
We have some demands: it is the debt cancellation and a kind of Marshall Plan for the three countries," said Alpha Condé, the president of Guinea.
Condé's call was echoed by his Liberian counterpart, who was also present in Brussels.
"The impact of Ebola on our economies has been profound. The most important long-term response to Ebola therefore rests in plans and strategies for economic recovery," Liberian President Ellen Johnson Sirleaf told the EU-backed conference.
World Bank estimates suggest that the three African nations could lost 12 percent of their combined gross domestic product by the end of 2015.
It has placed a heavy burden on their healthcare sectors, which have had to re-divert already scarce resources to fight Ebola away from AIDS, malaria and other serious diseases.
However, euronews' Isabel Marques da Silva reports that Tuesday's talks did not focus on tapping additional funding for the three countries.
Those discussions will take place at World Bank and UN meetings to be held later this year, our correspondent adds.
More than 9,700 people have died of the disease since December 2013, according the World Health Organization, with some 24,000 infected.
The Red Cross explains what new vaccine trials mean for local people.
"We make sure, first of all, that communities do understand what these trials are about, we make sure that they obey to ethical standards so that we do not lead to misunderstandings and the kind of tensions that we can experience," said Mohammed Elhadj, the Secretary-General of International Federation of Red Cross and Red Crescent Societies.
The deadly Ebola virus is spread through direct contact with the bodily fluids of an infected person; symptoms include fever and vomiting.