Don't confuse Islam with Islamism
Comments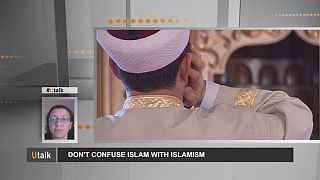 The extreme violence of the jihadist Islamic State group has intensified the debate in Europe over radical Islam.
The question in this edition of Utalk is from Romain in Paris:
"Offences by the self-proclaimed Islamic State organisation convey a very negative image of Islam, especially in European countries with large Muslim populations such as France. How can we avoid the frequent confusion between Islam and radical Islam?"
The response comes from Jocelyne Cesari, Professor at Georgetown University and Director of the Islam in the West Program at Harvard University. Author of "The Awakening of Muslim Democracy: Religion, Modernity and the State" (Cambridge University Press, 2014):
"This confusion has existed for a long time now. In Europe, one can even say that this confusion started before the 9/11 attacks.
"In France, for instance, this confusion has existed at least since Algeria started to crack down on the Armed Islamic Group or GIA. At that time there was already a confusion between Muslim populations in France and the reality of radical Islam in some Muslim countries.
"This confusion deepened after the 9/11 attacks and I would say that the action of the Islamic State is exacerbating the current situation.
"We can see the consequences of this confusion in Europe as a whole and not only in France.
"Europeans are more and more afraid of the signs and expressions of the Islamic religion such as minarets, veils, halal meat or circumcision.
"So we clearly see that there is more and more fear concerning the expression of Islam as a religion because Islam is associated in one way or another with the excesses and the radicalisation in the Arab-Muslim world.
"I think that the central question now in Europe is what is the legitimacy of Islam as well as of the other religions in the public sphere. There is a real debate on this issue today in Europe and this debate is far from being over.
The solution is not: 'No more Islam at all'. On the contrary, the solution lies with finding a different Islam that can counter the current intolerant version of Salafism."
If you too would like to ask a question on Utalk, click on the button below.