Football a major player on the world stage
Comments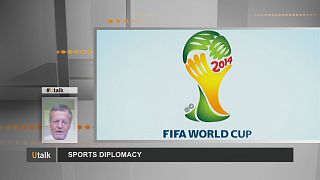 The growing influence of sport is the subject in this edition of Utalk. Viewer Nuno from Lisbon asks: The World Cup is putting Brazil under exceptional international media exposure. Beyond the sporting performance, the entertainment aspect and the economic benefits can we say that sport has become a geopolitical and diplomatic challenge?
Pascal Boniface, Director of the Institute for International and Strategic Relations in Paris responds: "Yes, absolutely. It was President Lula who supported Brazil's bid for the organisation of the FIFA World Cup and when Brazil was awarded it for 2014, Lula said it was a source of 'great pride for the country'.
"Any country hosting a major international sporting event, such as the FIFA World Cup or the Olympic Games, will benefit from huge media exposure. Winning the bid is already a victory in itself. Winning on the field is a very important thing, but winning the bid is already a great victory.
"It's something that is very popular, the competition is growing fast. The time when South America and Europe were the only ones to organize the FIFA World Cup is over.
"It's already been organised in Africa, in Asia and in the US; Russia will also host it, as well as Qatar. As sport is now globalised, the competition to host such events is getting harder. Traditional media, social media, radios, televisions have created an arena with unlimited seats: everyone can join in. In the past sporting events used to be confidential, today they are watched and followed by hundreds of millions of people.
"So sport has now a major role in the media and the society, it reflects countries' vitality, the image that countries want to project of themselves. In a globalised world where frontiers tend to disappear as well as national identities, sport manages to recreate them.
"Every French person will be supporting their national team, Belgians will do the same despite their division between Flemish and Walloon. In every country – old or new nation – everybody will support their national flag and their national team.
"In a nutshell one can say that our football players act as diplomats in shorts."
If you would also like to ask a question on U-talk, click on the button below.