Something in the air: tackling traffic pollution
Comments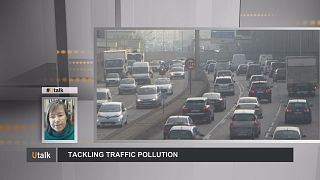 How to maintain good air quality is the subject of this edition of U Talk. Caroline in Paris asks:
"France has decided to rely on odd and even number plates schemes, notably in the Paris region, to curb traffic-related air pollution. Is it a good option? What else can be done to improve air quality in the long term?"
Lucy Sadler, an air quality expert responds: "In Europe, many cities and urban areas have problem in meeting the air quality limit values, these limits for air pollution are set by the European Union in conjunction with the World Health Organisation and they are to protect human health.
"In terms of pollutants, particle emissions are one of the most dangerous especially the very small particles emitted by road vehicles, in particular diesel road vehicles. So what most cities do is having a package of measures looking at different ways of reducing pollution from traffic, from industries, from heating.
"In terms of the short term measures to reduce that pollution from traffic, an odd and even number plates scheme may be effective for one or 2 days in terms of raising awareness. But if the measures go on for longer, many families have two cars, so they will adjust which car to use or people will buy a second old car.
"So it's very much not a case of either cleaner vehicles or traffic reduction, it's both. And doing both in a long term and a sustainable way, we'll have a better impact on air pollution in the longer term.
"Some of the cities that have very good practices in their traffic and air pollution, you can look at London with a low emission zone. A low emission zone is a city or part of a city where the higher polluting vehicles are not allowed in. And they have a congestion charge in the very centre of the city to regulate the emissions and the number of vehicles travelling in the city.
"Another good example is Berlin where they have a low emission zone, as well as Stockholm and Gothenburg in Sweden, both have low emission zones and congestion charging schemes.
Find out more about Low Emission Zones in Europe: www.loweremissions.eu
If you would also like to ask a question on U-talk, click on the button below.