Family fears for Belgium's foreign fighters in Syria
Comments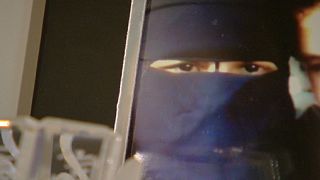 For over five months, Samira has been waiting. Waiting for her daughter, Nora, to come home from Syria to Brussels. Samira is Belgian. This divorced mother of four said she had no idea her daughter wanted to leave: "A normal girl. She took some religion classes. She did her prayers. She was a completely normal girl, she had her friends. I didn't notice anything and I think all the parents were the same because they led a normal life."
And although her daughter became progressively more religious, Samira said there were no warning signs. Shortly after her 18th birthday, Nora quit school:
"She had just turned eighteen and I said, listen, you need a diploma, it's your last year of school. But she said no, I don't feel right, I want to quit school. I'll go sign up at the employment agency. I want to do something being able to wear my headscarf. I said, alright, okay, as long as we have food in the house. And she quit school and she started taking more religion courses to deepen her faith. And after several months, she left."
Nora left in May and in Syria married a fellow Belgian from her hometown. Her husband was killed less than a month later. But Nora has not come home.
Nora is one of the estimated 300 young Belgian Muslims who went to Syria to help. And they're not alone: from Sweden to France to the UK or Denmark, there are some 2000 young European Muslims helping or fighting in a war European governments warn is not theirs to fight.
And now there is a growing concern that the real threat is when these so-called foreign fighters come home. That having been radicalised in Syria alongside al-Qaeda rebels, they will export this radicalisation back onto European soil.
Dimitri Bontinck went to Syria to find his 18-year-old son, Jejoen, but he came back alone.
He has written a book about him, called "Syrian warrior against his will".
Bontinck says Jejoen went to Jesuit schools and neither he nor his ex-wife, Jejoen's mother were religious.
At the age of 15, he converted to Islam after falling in love with a Muslim girl. He was still a minor when he left for Syria.
Bontinck says to call his son or other young Belgians a European security threat is ridiculous. He blames the Belgian government for not banning radical groups:
" I have been in Syria. Am I radicalised? No. Am I traumatised? No. All these journalists from the world press who are going to Syria when they come back from Syria are they traumatised? No. Where is the proof that they are fighters? Who says they are not youngsters working as volunteers in a clinic? Or a medical point? They (the government) failed because they don't have laws, they don't make it forbidden that radical organisations are active here in this country. This is the truth. Nobody of these politicians, they ask the reason why youngsters are going to Syria? This is the point. Why? Why they are going there?"
This question has been part of a national soul-searching over the past six months. A soul-searching which has intensified since the number of young Belgians killed in Syria has increased. And also a national awakening when, per capita, Belgium is the European country which has seen the largest number of foreign fighters go to Syria.
But for Joëlle Milquet Belgium's interior minister who created a task force to tackle this problem, criticism of government inertia is unfair:
"Not doing enough? I think we're doing the maximum. I think that at a European level, we've even become a point of reference regarding everything we've put in place. We've set up a whole strategy of fighting and preventing radicalism. We've strengthened our services, added more means. We have a thorough follow-up. But of course you can never prevent a young person from leaving his parents. We can't put a police officer at each door."
Every Saturday Jean-Louis Denis collects food to distribute to the poor and homeless.
A Muslim convert, Jean-Louis says its his spiritual duty to fight an unjust system of capitalism and democracy.
He is an ex-member of Sharia4Belgium which was allegedly dissolved after its leader was sentenced to prison for enticement to hatred. The group has also been accused of recruiting young Belgian Muslims for Syria.
Jean-Louis denies that his group preyed on young people who were lost or vulnerable. Just the opposite: "They helped me with the poor. They had a thirst for idealism. They wanted to change this corrupt capitalist system, this unjust and perverted democracy. They really had a thirst for idealism. And for these parents, these mothers who are saying, "he was recruited, he was indoctrinated, he was brainwashed. They should be asking themselves, what did they do to their children? Because they're the ones who wanted to brainwash their children, turn them into democratic Muslims, secular Muslims. If tomorrow I ask these mothers, if tomorrow your son could go to work for the Belgian army and earn 2,000 euros a month, would you like him to join the Belgian army? And they would say yes, that would be good. Even if he's ready to die for the Belgian army, for this money? this toilet paper money of 2,000 euros? And so for money they're ready to hand over their son to the Belgians but when it's for Allah and to restore the Sharia, you say they've been recruited."
Chantal, not her real name, asks that we do not reveal her identity. Not because she is ashamed but because she is worried that if her son sees her on television, he will break the little contact she still has with him.
Her son has been in Syria for almost a year.
Chantal says at first she thought he went to help with humanitarian aid. But in April, Belgian television showed a clip of her son with rebels announcing plans to plant the "Sharia" flag in Syria and the world. She says her son doesn't plan to come back. She blames radical groups. She blames her divorce. She blames the government. But especially she blames herself: "My son wasn't someone who was bad. Quite the opposite. He helped the poor. He had a good heart because sometimes he told me he would distribute food to the young, to the homeless with his friends. Me, I was hapy because I said this is a good deed. But it was the hidden face of radicalisation and his leaving for Syria."
While parents may be questioning how their children became radicalised, they are also asking if and when they will return..
For the mayor of Antwerp, one solution has been to block social benefits for those who have gone to Syria to fight alongside al Qaeda-linked rebels:
Bart De Wever the Mayor of Antwerp explains: "I have already had 33 people stricken from the public record. They are no longer citizens, they can have no social rights and when they come back, should they come back, of course they can go nowhere. They have to report themselves and at that moment we can arrest them, interrogate them about what they have done in Syria because we are well informed about what they are doing there."
But for the parents, there are too many questions the government cannot or will not answer. Only their children can. And Dimitri Bontinck plans to go back to Syria to ask his son: "In this situation, not only me but all the parents for whom the youngsters are in Syria, you're thinking did I fail as a father? Did we fail as parents? Did we do something wrong? You have many questions, you know and still today nobody has an answer for that."
And for Samira, her questions are in a letter which she hopes someday her daughter will read: "We are sick with worry about your being gone, my daughter, my Nora. Come back to us. Come home. May God protect you and help us. We're waiting for you and we will never stop. Our life, my life stopped the 20th of May, 2013. I love you."