Merkel's grand coalition begins to takes shape
Comments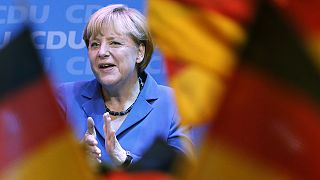 Angela Merkel and her CDU/CSU party won a resounding victory in Sunday's elections with nearly 42 percent of the vote and is headed for a third term as German chancellor.
Merkel has already had contact with the leader of the centre-left Social Democrats (SPD) about the possibility of a 'grand coalition.'
However, she may need to offer the SPD, which has major reservations about joining her in a repeat of their 2005-2009 coalition under Merkel, key cabinet posts in order to convince them. Such an arrangement promises to be challenging, as the SPD has been insisting on addressing the growing low-wage sector.
What impact will a grand coalition have on the European Union? What about Germany's tough policy on bailouts of eurozone members in distress, in exchange for tough reform of their economies. Could it soften?
Or could a relatively strong showing by the eurosceptic protest party Alternative für Deutschland (AfD) cause Merkel to become even tougher?
These questions and more are pondered by The Network's three personalities:
Lucinda Creighton, Vice President of the European People's Party (EPP) and member of the Irish Parliament.
Anni Podimata, Vice President of the European Parliament and member of the Socialists and Democrats (S&D); and
Sir Graham Watson MEP, President of the Alliance of Liberals and Democrats for Europe party (ALDE).