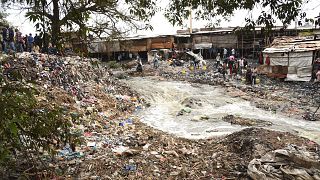 EU countries are dumping 37 million items of 'junk plastic clothing' in Kenya every year, a new investigation has revealed. 
This fashion waste is too dirty or damaged to be reused and is creating serious health and environmental problems for vulnerable communities in the country.
The low quality of the clothing means it ends up being immediately dumped, or burned to heat water, cook and allegedly fuel a power station.
The probe by Clean Up Kenya and Wildlight for the Changing Markets Foundation (CMF) highlights fast fashion's dependence on cheap plastic fabrics.
Investigators say that exporting junk clothing to poorer countries has become an "escape valve" for "systemic overproduction" and this hidden stream of waste should be illegal.
What clothing is being dumped in Kenya?
Clean Up Kenya and investigative NGO Wildlight interviewed people and collected evidence on the ground in Kenya to discover what happens to used clothing known locally as mitumba. 
They discovered junk clothing in some places piled as high as four-storey buildings and spilling into rivers.
"We went to the Ground Zero of the fast fashion world to unmask an ugly truth - that the trade of used clothing from Europe is, to a large and growing extent, a trade in hidden waste," says Betterman Simidi Musasia, founder and patron of Clean Up Kenya, which advocates for sustainable public sanitation.
Exporting plastic waste from the EU is restricted and is soon to be banned in the bloc. Despite this, the investigation found that more than one in three pieces of used clothing shipped to Kenya contained plastic and were of such low quality they immediately become waste.
Kenyan traders say that the amount of junk clothing arriving in the country has significantly increased in the last few years. The clothing they receive is often soiled with vomit, heavy stains or animal hair. It reflects an increase in cheap, disposable fast fashion.
"Countries like Kenya are fast fashion's escape valve. Traders buy bundled clothing blind and understandably dump the growing percentage that turns out to be useless," Musasia explains.
"In truth, our addiction to fast fashion is saddling poorer countries like Kenya with polluted soil, air and water."
The report also claims that recycling firms which are part of Fashion for Good and Textiles 2030 are trading high volumes of junk clothing.
"A large proportion of clothing donated to charity by well-meaning people ends up this way. Why? Because the backbone of the fast fashion industry is plastic, and plastic clothing is essentially junk," says Musasia.
Focusing on direct exports to just one country, CMF says that the scale of the problem is likely much larger than the scope of the investigation. 
Many items of clothing from Europe pass through a web of countries in and outside of the continent making them impossible to track.
But some used clothing sellers say that the report paints a "wildly inaccurate" picture of the mitumba trade in Kenya. 
"This European report assumes that mitumba traders in Kenya spend their money importing 50 per cent waste," says Teresia Wairimu, chair of the Mitumba Consortium Association of Kenya.
She adds that mitumba traders aren't "fools" who are spending lots of money importing waste just to dump it into landfills but are "proud business people" buying good quality clothes that an be sold and re-used in Kenya. 
"At least 2 million Kenyans are directly employed by the mitumba industry, with over 20M people totally reliant on it for their clothes. Half the population's households buy second hand clothes each year," Wairimu adds.
"This report is a demeaning and an insult to all who work in the second-hand clothes trade across the continent and by spreading misinformation it further threatens millions of livelihoods." 
Which countries are exporting the most junk clothing?
Data from the UN Comtrade Database shows that between 2019 and 2020, the EU and UK exported over 5 million tonnes of used textiles. Before being sent abroad, these items are traded between European countries to be sorted and graded, the investigation suggests.
Germany, for example, exported 179,000 tonnes of textiles to the Netherlands - an unusually high volume for a high-income country. This is the equivalent of 53 per cent of the Netherlands's total export of used clothing and suggests the country could be a stopover point in the clothing trade.
Textiles were sent from the EU to destinations like Ghana, India, Nigeria, Pakistan and Kenya - where the investigators focused their attention.
CMF found that in 2021, Germany, Poland, the UK, Hungary, Italy, Belgium, Lithuania, Estonia, France and Ireland accounted for 95 per cent of all second-hand clothing exports from the EU to Kenya with a total value of almost €25 million.
Germany topped the list of European countries, exporting more than 50 million clothing items. Over 25 million of these were waste and almost 17 million were plastic based. It was followed by Poland and the UK which both exported more than 12 million plastic-based items in 2021.
What needs to be done to stop the stream of junk clothing?
This summer, the EU is due to propose a set of measures that could require brands to pay for their waste and produce items from more sustainable materials.
"Unless the fashion industry is fundamentally changed, what we have seen in Kenya and around the world will be just the beginning," says CMF's campaign manager, George Harding-Rolls.
More than two thirds of clothing is now made of plastics like nylon and polyester which are impossible to recycle.
"The solution is not to shut down the used clothing trade, but to reform it. We can't recycle our way out of this problem."
Instead, he explains, the industry needs boundaries and rules - like those proposed by the EU. It should include comprehensive, strict recycling and reuse targets while shifting fashion towards more high quality, sustainable fabrics.
"Recycling companies cannot be allowed to hide behind their empty promises and should be banned from exporting junk clothing," Harding-Rolls adds.