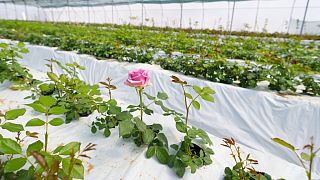 Thinking of showing your love with a bunch of flowers today?
It may be time to consider the environmental impact of your romantic gesture.
Cut flowers have to be transported quickly on refrigerated lorries, planes and boats so they stay fresh.
Around 90 per cent of the flowers marketed in Europe are imported, mainly by air, from heated greenhouses in Holland, and further afield from Ecuador, Colombia, Kenya and Ethiopia.
With the increasing cost of heating greenhouses due to the energy crisis, flower imports from warmer countries are on the rise.
Not only does the flower industry generate planet-warming emissions, it exposes originating countries to harmful pesticides, diverts water from food crops and often has poor social standards for workers.
Where do the EU's flowers come from?
An estimated 250 million stems of flowers are sold on Valentine's Day globally, according to the British Florists Association. Roses and tulips account for a third of this total each.
In 2016, a quarter of the cut flowers that the EU Member States imported came from outside the EU, mainly Kenya (38 per cent of imports of non-EU origin), Ecuador (17 per cent) and Ethiopia (16 per cent), according to Eurostat.
The Netherlands is the EU's main exporter of cut flowers, accounting for 87 per cent of EU Member Statesˈ exports.
Over the first 10 months of 2016, 84 per cent of the EU Member Statesˈ exports of cut flowers were from trade among EU Member States. The country that imported the most cut flowers was Germany with 25 per cent of all EU imports.
Which flowers generate the most emissions?
A 2018 Lancaster University study by Becky Swinn investigated the carbon footprint of flower cultivation and transportation. Transport, heating and electricity use were the main culprits.
Dutch lilies were found to produce the highest emissions, followed by Kenyan gypsophila, Dutch roses and Kenyan roses.
Emissions are significantly lower for lilies, snapdragons and alstromeria produced by commercial-scale and small-scale flower growers in the UK.
It was found that the carbon footprint of imported flowers can be 10 times that of a homegrown bouquet.
Is there a better way to gift flowers?
Sourcing from local florists that grow their own flowers is one way to combat the environmentally damaging impacts of the industry.
Belgium-based Il Était Une Fleur is one example of such a business.
Listed on the EU's circular economy page for its positive environmental practices, the florist is leading what it calls the 'slow flower movement'.
Working with nature rather than exploiting it, the florist only cuts the flowers that will be used in purchased bouquets, leaving unsold flowers in the field for insects and birds. Branches and leaves from a local garden are used as mulch to feed and protect the soil.
A short circuit supply chain and partnerships with local businesses ensure transport of the bouquets is kept to a minimum.
The florist is also partnering with Rosemarie Confetti, a Belgium-based company that makes wedding confetti by drying petals from unsold flowers.