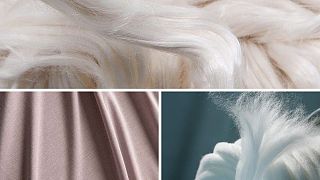 Despite soaring interest in sustainable fashion, efforts to create major industry changes are slowing down, according to a report by the Global Fashion Agenda.
Brands are still committing time and effort to sourcing innovative materials that are durable and ethically-made.
Related | A cruelty-free approach to luxury interior design 
One such fabric fitting the bill is Tencel. Its fibres are being used in materials for designers and retailers including Ted Baker, Victoria's Secret and Levi's and by sustainable fashion brands such as People Tree. But what is making this new fabric so popular and why is it considered a more environmentally friendly choice for clothing brands?
What is Tencel?
Produced by Austrian company Lenzing AG, Tencel is the brand name for a for fibres modal- a type of semi-synthetic rayon - and lyocell - another form of rayon, made with spun wood cellulose. The fibres are incredibly versatile and are often combined with other textiles such as cotton, wool, polyester and silk to improve their functionality.
How is it made?
The brand says that the fabric is produced from natural, raw wood material which is sustainably sourced from forests. Wood pulp is dissolved in a chemical solvent and the mixture is then pushed through small holes to form fibres. The fibres are then chemically treated, spun into yarn and can be woven into cloth. Throughout the process, the water is recycled and the solvent is reused to form new fibres, in a bid to keep waste to a minimum. Tencel claims that as it uses plant materials, it is biodegradable and also requires less energy and water in its production than cotton.
What are the benefits of Tencel?
Tencel is soft and holds colour well, while its breathability makes it ideal for use in activewear. The makers claim it helps wick moisture from the skin, regulates temperature and is efficient moisture and aiding temperature regulation.
Though Tencel is currently more expensive to produce than cotton, it also has antibacterial properties which makes it ten times more resistant to bacterial growth than cotton.
Read more | Mushroom trainers and apple peel bags: The best of Berlin fashion week
The brand's proudest claim is that its fibres can "fully revert back to nature" as they are compostable and biodegradable. However, it cannot be classed as organic due to the chemical dyes and embellishments used by many manufacturers, which are potential pollutants.
In essence, these fibres are made using more environmentally responsible processes than artificial fibres such as nylon and polyester and they deliver comfort and durability.