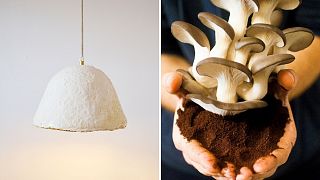 Off-white lampshades whose colour and texture mimic the mushrooms that generated them are a new example of eco-design. As consumers, designers and companies are increasingly considering eco-minded solutions, a Belgian project shows how to grow oyster mushrooms from recycled coffee grounds and use the leftovers to bring about eco-conscious design elements.
This social enterprise, called PermaFungi, began to produce in 2014 and now produces one tonne of oyster mushrooms per month, resulting from the recycling of 5 tonnes of coffee grounds.
The leftovers of this organic production are then recycled and are the main ingredient for the mushroom-based material which creates the innovative lampshades. They were created two years ago by Belgian designer, Caroline Pultz, in collaboration with PermaFungi.
Pultz's project is called Lumifungi, a portmanteau referring to both light and mushrooms.
The designer says the mushroom-based material the lamps are made of has a very versatile nature; it can also be turned into flower pots, be used for packaging, acoustic insulation and even replace construction bricks.
Click on the video above to learn more about this project.