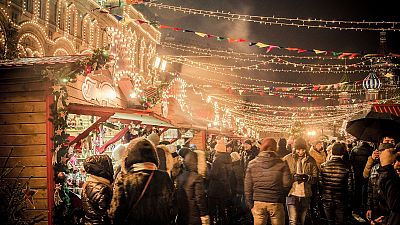 Our round-up of eco-friendly christmas markets promoting sustainable living in Europe to attend this December.
Zero Waste Christmas Market
When: 08/12
Where: London, England
Avoiding excessive waste is a challenge - especially at Christmas time. That's why the "Zero Waste Goods" movement brought together innovative, independent businesses dedicated to the environment, for greener gifting this festive season. They've teamed up with brands that offer ethical, green and high-quality gifts and festive must-haves that don't cost the Earth, so you can choose well and buy better for yourself and your loved ones this year. All profits from ticket sales go to Cool Earth - to prevent deforestation and offset carbon produced in hosting the event.
Goed = Doen Festival
When: 16/12
Where: Hengelo, Netherlands
"Goed=doen", literally "do good" in dutch, is a festival which will be held in the Eastern city of Hengelo, not far from the german border. The local association will screen the documentary film "#Who made my clothes?" and organise debates revolving around the theme of sustainability in fashion. Vegan food stalls and an eco market will be installed, singers and songwriters will perform and an eco kids' club will look after and teach ecology to your little ones!
L'Autre Marché
When: 1/12-23/12
Where: Nantes, France
From December 1st to December 23rd, this green and ethical "Alternative Christmas Market" will celebrate the ten-year anniversary of its concept – stroll between its alleys to find the perfect gift made by players of the local and sharing economy. Over 64 craftsmen and women will be selling their creations, such as jewellery, cosmetics, clothes or delicacies, all ethically made, upcycled or reusable.
Off de Noël
When: until 30/12
Where: Strasbourg, France
Nestled in the heart of the "Great Island" of Strasbourg, a city registered on the UNESCO list of world heritage sites, this Christmas market is one of the most ancient of Europe, located on the French-German border. Over 300 wooden mountain cabins will be established throughout Strasbourg and exhibit craftworks, christmas decorations and local delicacies, until the very end of December. The "OFF Market" will bring together local Alsacian producers, and encourage bystanders to invest in responsible, ethical and sustainable gifts for their loved ones. A lot of events on the theme of sustainability are to be held, such as conferences, tastings, DIY classes and concerts.
Stockholmjul
When: all of December
Where: Stockholm, Sweden
"Stockholmjul" (the "festival of lights"), one of the most remarkable lightning projects in Europe started on the 25th of November adorning over 40 streets, locations and squares in Stockholm. These luminescente decorations are all made of environmentally friendly materials and energy-saving LEDs, making this event both magical and eco-friendly!
Eco Christmas Market
When: 1 & 2, 8 & 9, 15 & 16, 22 & 23 December 2018
Where: Berlin, Germany
On four weekends in Advent, environmental organisations, artists and designers with an ecological outlook sell their products at the Eco Christmas market at Sophienstraße near Hackesche Höfe in the city of Berlin. Besides browsing through carefully selected Christmas gifts, visitors get to enjoy organic bratwurst, pies, waffles, vegan dishes and a well-deserved glass of mulled wine. The products on offer include hip and trendy designer items and handicraft made in Berlin as well as all kinds of natural, organic and fair trade knickknacks that will certainly pleased your loved ones on Christmas day. Brass ensembles, stilt walkers and a generous Santa Claus add to the Christmassy atmosphere at the Eco market at Sophienstraße.
Pure Markt
When: 16/12 & 23/12
Where: Amsterdam, Netherlands
The Pure Markt of Amsterdam features over 90 vendors selling a variety of sustainable, organic and artisanal products. You'll find plenty of delicious food as well as everything from toys and furniture to candles and cosmetics.
Christmas Market at la Ferme de Budé
When: 14 &15/12
Where: Geneva, Switzerland
The farm "Ferme de Budé" will be hosting for the third year in a row a local Christmas market focusing on organic, handmade and regional products sold in over 25 stalls. You'll be able to find all kinds of top quality products there such as soap, ceramics, books, jewellery, clothes, chocolates, oils, juice, beer and wine and so much more. And last but not least, there will be activities to entertain the little ones while you shop, as well as music and food in a festive atmosphere.
The Market of Ideas at the Tollwood Festival
When: Until 23/12
Where: Munich, Germany
The "Market of Ideas", held by the Tollwood Festival (a panel for cultural and ecological activities), helps funding the ecological projects of the festival by renting and leasing out market stalls. Illuminated tents, flavours from all over the world, the happy hustle and bustle of performance artists, sounds of the Hexenkessel, unique craftworks showcased and the manifold offers of international organic food and beverages create an exceptional atmosphere right before Christmas.