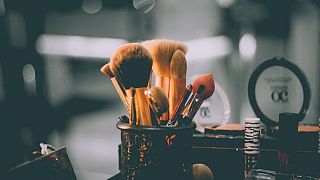 Our skin absorbs what we put on it and is either assimilated or filtered back out. Absorbed or ingested pesticides can tax our livers and kidneys, and using organic, non-toxic products benefits personal health as well as benefiting communal health. Indeed, organic farming reduces climate change and encourages biodiversity. Soil enriched through organic farming practices retains more water than conventionally farmed soils. So why not invest in organic beauty products to make a change without compromising on quality. Here are five eco-certified labels that caught our eye and made their way on our bathroom shelf.
Waterless foundations
When typical liquid foundations or face creams contain 70 to 80% water, New Mexico-based Vapour goes waterless to eliminate the need for harsh preservatives, usually used to prevent microorganisms growing in water. This cosmetic brand founded by botanist Krysia Boinis and painter Kristine Keheley is reinventing the way makeup is made. Vapour suspends mineral pigment in concentrated moisturizing botanical bases such as organic beeswax instead of presenting them in a powder format as dry minerals can settle into and accentuate the appearance of fine lines and wrinkles.
Instead, the textures are silky and packaged in lightweight aluminium recyclable sticks, with the added benefit of being ideal to carry on the go. The colour palette imagined by Kristine caters to a wide range of skin tones. Expect iridescent lip-color type of shades that build up depending on how many layers you apply from supernatural to deep. We like that production happens in one single location powered by solar panels and wind turbines, and product boxes are made from managed forest paper stock. Shop the Siren lipstick (from 25$/22€).
Follow the brand: Vapour Beauty
Mineral powder
Certified organic and vegan, Australian brand Inika was born in 2006 in Sydney. The brand caught our eye for its extensive range of makeup product including liquid eyeliner (a rarity among organic cosmetics) and vegan professional-quality brushes allowing for a very mat foundation coverage. Every single product composition is guaranteed 70% organic ingredients and are sourced in an environmentally sustainable way, maximising use of renewable resources and minimising consumption of energy, soil and water. Hurray!
We particularly liked the combo of terracotta tile baked mineral bronzer and sheer illuminisor that both matify and enhance the complexion without drying it out. The skin looks naturally sunkissed with subtle pearly reflections and an healthy glow when the highlighter is applied on the upper cheeks and brow bone. Shop the bronzer and illuminisor (from £33/37€ each).
Follow the brand: Inika Organic
Vegan lipsticks
Using plant-based derived oils such as avocado, castor seeds and organic coconut in place of popular ingredients such as shark liver oil, known as squalene, lipstick and lip crayon brand Axiology is fully committed to produce cruelty-free and vegan cosmetics. The brand has many commitment towards wildlife conservation and donate a percentage of profits to the International Orangutan Foundation, who are dedicated to rainforest and Orangutan conservation.
The lipsticks come in a small format which makes them great for travelling and discreet retouching. The colours are deep and includes shades of black, blues, and purples to suit various styles and skin tones. The shades are created with mineral pigment such as iron oxides, mica, and titanium dioxide, and the finish is overall mat. We liked that the boxes are sourced from Bali by a woman-owned recycled-paper boutique.
Follow the brand: Axiology_beauty
Anti Pollution Skincare
Lisa Franklin is a Positive Luxury certified skincarebrand that focuses on preventing the damages caused by air pollution. These micro particles - a fraction of the diameter of a human hair - of solids from dust, fumes and smoke accumulate at the surface of the skin. If not removed, they will gradually penetrate through the pores and cause inflammation and dehydration, as well as disruption to the skin's barrier function caused by oxidative stress.
We particularly liked the anti-pollution cleanser (from £60/68€) including 3 types of oil (Kalahari Melon, Baobab and Marula), 5 natural extracts (Kakadu Plum, Caviar Lime, Rainforest Lime, Desert Lime, Fomes mushroom) combined with purified water. A few pumps on a warm damp cotton pad will effectively remove makeup and pollutants, dissolving and dispersing cellular debris and impurities. A bioactive complex of fruit acids exfoliates to regenerate skin cells whilst nutrient-rich botanical extracts tighten pores, strengthen skin barrier function and boost skin health.
Follow the brand: Lisa Franklin UK
Bamboo packaging
Long-lasting textures, deep colours and eco-conscious rechargeable packaging make French brand Zao, a very interesting brand to invest in. Bamboo is the main material of these products, inside and out. The plant is incorporated into formulas in the form of sap powder, leaf hydrosol or bamboo rhizome macerate. It's rich in organic silica, an element naturally present in the body responsible for collagen production and the preservation of tissues elasticity.
We like that the products are made in "Labophyto", based in Pogliano Milanese, 15 km far from Milan center. The first makeup production factory to be certified by Ecocert from 2007 for the production of organic makeup. Besides Bamboo, the beauty products are formulated from natural ingredients, such as vegetable oils, waxes, plant extracts such as shea butter, apricot kernel, corn,... without the addition of synthetic preservatives or fragrances.
Follow the brand: Zaomakeup_official