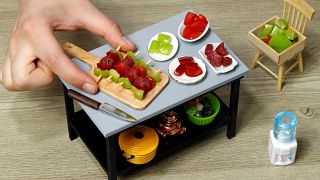 What started as a hobby over a year ago turned into a challenging passion with over 40 recipes for a Turkish couple. 
Social marketing coordinator Burcu Celenoglu Aydin and her husband videographer Anil Aydin cook miniature versions of popular Turkish dishes in a tiny kitchen with a working stove to promote culinary riches of the country. They upload the videos on their Youtube channel 'Mini Turk Mutfagi' which means Mini Turkish Kitchen in Turkish.
"Turkish cuisine is tremendous and spectacular. But at the same time, it is very difficult, depending on the recipes. It is even more difficult to cook it in a miniature kitchen. It takes three times as long but it wasn't very difficult for me since I had a lot of fun (cooking)," says miniature food cook Burcu Celenoglu Aydin.
However, she had to work a lot on her recipes, these dishes taste like the originals, she says.
Writer: Doloresz Katanich with Reuters