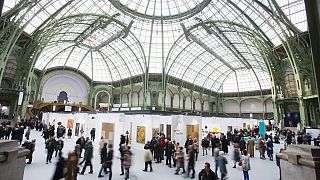 Copyright

Art Paris Art Fair
Representing the essence of European art, Art Paris Art Fair has reopened its doors to celebrate all forms of artistic expression.
2018 marks the 20th anniversary of the event, this year 142 galleries showcase artworks from 22 countries at the Grand Palais in the heart of Paris, said Fair Director Guillaume Piens to Living it.
The collection is based on themes emphasising discovery and rediscovery. The 2018 selection is characterised by the arrival of newcomers — including Canada, Russia and Kuwait — as well as an influx of renowned Parisian galleries.
The collection provides an overview of European art from the post-war years to the current day, while leaving room for international creations from Latin America, Africa, Asia and the Middle East.
A special collection marks the 20th anniversary of the Art Paris Art Fair with an overview of the French art scene through the work of 20 artists. Exhibition curator and art critic François Piron puts the spotlight on artists who push boundaries, from the 1960s to today, featuring those who managed to preserve their independence or dodged mainstream culture altogether.
To celebrate foreign art, Switzerland has been appointed the 2018 guest of honour. Art historian and exhibition curator Karine Tissot guided Living it through the exhibition just before it opened.
Video: Alain Pirot
Article: Doloresz Katanich