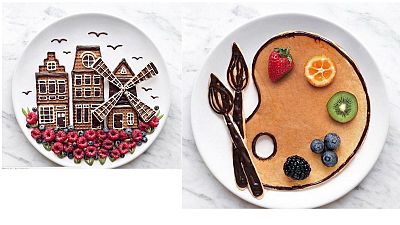 Cities made of cheese and meat, a portrait of Eddie Murphy made of Oreo cookies, and of Whoopi Goldberg of chocolate sauce are just some of the Ukrainian food artist Daryna Kossar's impressive works.
Trained as a psychologist, she used to work as a personal assistant when she decided to give up that job and start a food art Instagram account five years ago.
Since then she has been combining her creative and cooking skills in order to turn ordinary food products into colourful and edible masterpieces.
Being inspired by every product, which is a substitute for a certain kind of paint for Daryna, she always carries a small notebook with her to immediately capture ideas on paper.
But Daryna's creativity goes far beyond food products; she also uses cosmetics for painting her pictures.
Fascinated by the artist's talent, French designer Christian Louboutin commissioned her to do a whole campaign for his new cosmetics product line called Aloha Louboutin.
Writer: Doloresz Katanich with Reuters