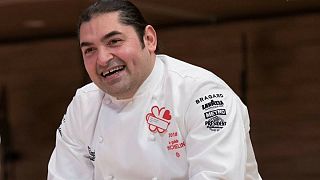 Almost 20 years ago Lebanese chef Alan Geaam lived on the streets of Paris, today he works in his own Michelin starred restaurant.
Situated near the Arc de Triomphe, Restaurant Alan Geaam was recognised on February 5 by the reputable gastronomy guide.
Born in Liberia, Geaam lived through the first Liberian Civil War.
In 1999 he decided to try his luck in France where he found himself homeless. Fortunately for him, new acquaintances helped him find a roof over his head. At first, Geaam worked on construction sites and distributed flyers.
"My second job was as a dishwasher in a restaurant working the night shift. I started to clean and to learn. One night, the chef hurt himself and I found myself in front of the stove and faced with the service. I didn't ask any questions, I jumped right to the stove and I started serving. Everything started there," says Mr Geaam.
A self-trained cook, Geaam's unique style mixes Lebanese products with traditional French flavours. His signature dish is foie gras with Lebanese pomegranate.
Content with finally living the "French dream," Geaam hopes his story would inspire migrants wanting to start a new life.