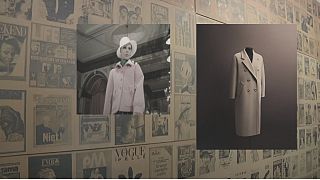 As Milan Fashion Week gets underway, the city's Palazzo Reale museum is exploring the history of Italian fashion through iconic items such as Fendi's 'Baguette' bag, Tod's 'Gommino' loafers or the Max Mara 101801 coat.
The exhibit 'Italiana: Italy through the lens of fashion 1971-2001' is a project in the form of an exhibition and a book, conceived and curated by Maria Luisa Frisa and Stefano Tonchi.
'The year 1971 symbolically marks the watershed between high fashion and the start of Italian ready-to-wear fashion, whilst the year 2001 is an emblematic end date; the moment when Italian fashion became a global phenomenon', according to the museum.
For the president of the Italian Chamber of Fashion Carlo Capasa, the exhibit is a history lesson through fashion.
"Fashion in those years has told the story of our country's evolution, feminism revolutions, which were extremely present in Italy in 1971, the date from which the exhibit starts, the birth of a growing bourgeoisie increased the purchasing power after the 50s and 60s and so people wanted to invest in their appearance, in the way they dressed, in their image and these were big moments of change in society. This exhibit shows this not only with clothes but also through emotions given by art from those years, a few objects or elements that have told the story of the lifestyle of our country," said Mr Capasa.
The exhibition runs 22 February - 6 May at Milan's Palazzo Reale.