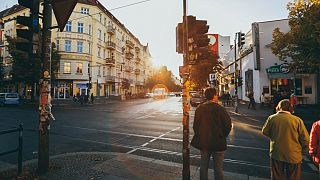 Where do you start a 24 Hours in Berlin? Morning seems kind of wrong in the city that never sleeps. So let's begin with an afternoon swim at the Oderberger . This handsome, historic old public swimming pool was derelict for years and has recently been restored to its fin de siècle grandeur. Twenty lengths in the historic pool is a perfect start to a Berlin trip – and you shouldn't miss the chance to stay in a luxurious bedroom in the hotel upstairs, where the former individual bathing rooms have been transformed.
I pass by Christopher Isherwood's memorial at the house he lived at in Nollendorfstrasse, then cross the city by clattery U Bahn and arrive at one of the weirdest sights you can imagine, the Bierpinsel – and for a good reason this time.
My overweight obsession – this bulbous, beer-bellied building that squats above an Autobahn flyover in Stieglitz is a weird, wonderful Berlin landmark. Sotheby's listed it last year for a cool £2.8 Million but so far there have been no takers. How can I raise the cash, I ponder.
Buy more Bitcoins? It was built as an oddball restaurant, bar and nightclub in 1976 and questions remain over whether it would have to be restored like this or whether the city's planning laws allow it to be converted into a hotel or one absolutely magnificent house. At the moment the upcoming Netflix crime drama Dogs of Berlin is being shot there. I've never managed to get inside but as I explore the stairways and balconies and peer through the doors, I can't help thinking of the era when it opened and David Bowie came to Berlin to record at the famous Hansa studios.
I can't resist a return visit to St Agnes Kirche – a building that set my heart aflame the first time I laid eyes on it. So much so that I based a whole novel around it, imagining my lead characters getting married in its raw, austere yet mesmerising main hall.
That space is now a gallery and while we're on the subject of transforming brutalist buildings into fancy homes, the gallerist here – Joerg Koch – has carved a family flat into the fabric of this building which is so crazy it has purple carpeted walls like something Prince's ghost would select in the sales. I'm yet to be allowed in for a coffee.
West Berlin seems to be experiencing something of a rise in fortunes at the moment with lots of new things happening. The Bikini Haus dates from the 1950s and was one of the first attempts by West Berlin to create a new city centre after the Russians had swiped Mitte, the real centre of Berlin. The beautifully restored building boasts design stores and fashion boutiques, and at the top a perfect hotel by the hipster 25 Hours chain from where you stare over at the animals down in Zoo.
Nearby in Charlottenburg is the Sir Savigny where I stop for a drink in the splendour of the 1893 building which houses the first 'Sir' hotel outside the Netherlands.
Dinner is at the Golden Phoenix at the Provocateur. I have the best chat with the friendly staff and enjoy the plump prawns with chili and beef with wild mushrooms immensely. I can't help noticing the 'Hangover' breakfast on the menu – vodka, espresso, cigarette.
The rooms here have a surprise too – an individual cinema projector that shows a naughty burlesque movie on the wall at the flick of a switch. Cabaret fans will eat their hearts out. The orange, brown and yellow 1970s signage at Konstanzer Strasse U Bahnhof piques my interest on the way out – it looks like a V neck sweater your granny would have knitted.
Nighttime means Kreuzberg of course. I'm led by a good friend to Wuergengeel where we drink surrounded by the chain-smoking Berliners who don't give a f*** about rules and regulations. This, I'm told – Dresdener Strasse – is where Nick Cave once lived.
I wonder what the Berlin of his day was like? I wish I could go back in time. But the city moves on. Nearby on Oranienplatz, Orania is the new face of Kreuzberg. In a handsome, freshly restored building that once played host to the cafe and cabaret Oranienpalast in the roaring 20s made famous again recently by the TV show Babylon Berlin, a swish new complex has opened boasting restaurants, venues, a members' literary salon and a handful of exquisite hotel bedrooms. By the time I manage to stagger over to Kumpelnest for some (very) late night disco the sun is almost rising.
Naturally most of the following day is a write-off. But one last thing intrigues me. I make for Tempelhof to see Berlin's oldest airport – the huge building, the runways transformed into a giant park where you fear a 737 is about to land any minute. But then, finally, I also head to Brandenburg Airport.
The city's newest airport is also its biggest embarrassment. But I'm oddly happy to learn that it's perfectly fine to go and walk around the site, see the behemoth buildings standing empty while whatever problem inside is fixed, and watch the lads joyriding their cars on the deserted approach roads.
Chris flew to Berlin with FlyBe. More information: Visit Berlin
Writer: Christopher Beanland
Read more of Christopher Beanland's work on christopherbeanland.com