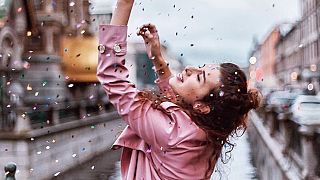 Ketevan Giorgadze, also known as @KatieOne on Instagram, is a travel, fashion and beauty blogger. She was born in Georgia and raised in Moscow and later decided to follow her dreams and move to the city of lights, Paris.
Katie One has turned her passion for the French Art de Vivre into a platform of inspiration for more than 200 thousand people on Instagram who follow her advice on breathtaking destinations, fashion and beauty trends. Katie has managed to build her stunning account in less than two years. She focuses on editorial-quality posts, giving advice in the lifestyle area, traveling around the world and sharing her unique, magical, and romantic vision of the world. Ketevan's posts hypnotize us with the most charming sceneries, awe-inspiring photos and romantic dresses. We spoke to her about joyful destinations and travel advice, and this is what she shared with us.
How do you plan your next trips? Do you travel alone?
"I always look for inspiration before going on a trip. They usually come from childhood memories, books I've read or movies I've seen. Of course my second source of inspiration is Instagram, I follow different photographers that are world travelers and they help me discover new places.
I try to travel as much as I can with my fiancé. We have the same taste in the kind of holidays we like to take, so that's perfect. We love active holidays and not staying the whole day in a Hotel. He also helps me a lot with the pictures, he is skillful in photography. It's a perfect match!
I do travel alone, before more than now. However, I always try to contact someone from the location I plan to travel, like Instagrammers and photographers. I always meet locals in the countries I visit because I think it's a great way to really get to know the place, they always show you around the best places. Plus, its always fun to be with someone else."
Where do you want to go next?
"I have a lot of countries in my bucket list. Right now I am really attracted to the amazing landscapes and beautiful nature from South America. I'd like to go to Peru, Argentina, maybe Venezuela. I'm still thinking about it.
I really hope to visit Morocco next spring. I am very excited about the oriental style architecture, clothes and colors! When I went to Turkey I fell in love with the bazaars, the people and their authentic style. I think I'll love Morocco".
Travel tips for those seeking great local experiences?
"Reach for local advice, that's the best tip. So don't be shy and always be open to communication. Not behaving like a tourist is important because locals will approach you. I always contact resident Instagrammers, the people in social media are very open and always want to meet new people and show you around, especially those who live in remote areas".
How do you turn a simple experience into a luxurious one?
"It's all about details, as I said: planning, planning, and planning. If I want to have a nice breakfast but there's nothing special, I know in advance that I will get up early and buy flowers. I am very demanding, when in a Hotel I ask the manager for Champagne or strawberries (laughs). But yes, a lot of food, flowers and light. Sometimes I even bring flower petals myself (laughs)."
What are your travel essentials?
"Creativity, of course. Every time I travel I make an effort to find experiences outside of the travel guide.
Second: camera and backpack, I never travel without my gear, I would never risk missing a beautiful sunset".
If I want to have a nice breakfast but there's nothing special, I know in advance that I will get up early and buy flowers.
What travel advice do you have for people interested in visiting Paris?
"The best recommendation is to understand what it is that you want to do and prepare for that. Paris has a lot to offer: a huge cultural scene, night life, local experiences, etc.
My favorite thing to do is going to parks where the Parisians go. These people really know how to relax and enjoy their time. I love being part of the French scene where people just read newspapers and drink wine, it really calms me down. I love just siting on a bench, looking the beauty around, and greeting the sunset".
How do do you manage to always have stunning photos?
"Research is everything. I always visualize what I want to do and all the possibilities. I look for inspiration on Pinterest and Instagram. I imagine the exact shots that I want to create. I prepare who, how and where I'll take the picture. My outfit, how to get there, everything. Sometimes it takes days! But otherwise you'll miss it."
What's been your most memorable travel experience so far?
"Capadocia region in Turkey. They have an all year round Balloon Festival, it is amazing. I saw the pictures several years ago and I didn't think it was real. But then when I was standing there, watching all the balloons above my head it was just amazing, you don't want to take pictures you don't want to do anything but watch and cry because its so beautiful! Everyone should visit this place".
All Pictures: Courtesy of Ketevan Giorgadze