Amber Fillerup Clark dishes on creating an empire, raising a family and traveling the world.
In 2010, Amber Fillerup Clark launched her blog, Barefoot Blonde, to document a trip to Fiji for her family. Seven years later she has turned it into a successful career: sharing her hair tutorials and beauty advice (plus her favourite fitness moves to craft those abs after two children!) and garnering an impressive 1.3 million followers on Instagram.
The 27-year-old mom of two has already managed to expand her beauty empire, launching Barefoot Blonde Hair, a line of premium clip-in hair extensions (which sold out within 72 hours) and recently signing on for a big campaign with the luxury hair-care brand Kérastase.
She also somehow manages to travel the world (with her family in tow) and look flawless doing it (hello, ab-spiration!). So we picked her brain on seeing the world (on a budget), staying healthy and tuning out the haters.
What inspired you to do what you do?
I love to document — words and visuals. Taking pictures of my life as it happens and writing about it has always been so fun to me. I never anticipated or planned for this to be a career path, I just liked to document cool hairstyles I did and fun activities!
Tell us about a bad thing or a tough moment that made you better.
Getting so many mean comments, in the beginning, was hard for me. There were so many (and still are) it's hard to pinpoint specific comments. I remember a lot of people we were close to just saying that it embarrassed them or making fun of what I wore or said or looked like. I have had people pick on me like that since junior high so for me, I kind of already had thick skin. It still hurt but not enough for me to change what I was doing. I think it made me more confident in a weird way. I knew I had to love myself so words wouldn't get to me and have really grown to appreciate all the things that make me "me". The only thing you can do with mean comments is using them as motivation to keep going and work even harder. I think people who leave rude comments are in a bad place and I try to be understanding of that, too. It's not me, it's them.
Your Instagram documents all of your amazing travels. How did you fall in love with the "nomadic" way of life?
I always wanted to travel and be independent when I was younger. I begged my mom to let me go to Paris when I was in high school, but I never went. As soon as I graduated I went on a service trip to Fiji for a couple months and then the next summer I nannied in France. Since then I have just craved it. As soon as we get home from a trip I am daydreaming about where we will go next. One of the reasons I fell in love with my husband was because he was just as adventurous and spontaneous as I was. We just love seeing new places and trying new things.
How long does your family typically stay in one city?
We were living in New York for two years and Hawaii for six months. Now we are building a home in Arizona and plan to be there for a while. But we will always be travelling — we generally like to be in cities for at least a week. However, sometimes with European trips, when we are covering a lot of ground, we do a few days in each city. It just depends on the location!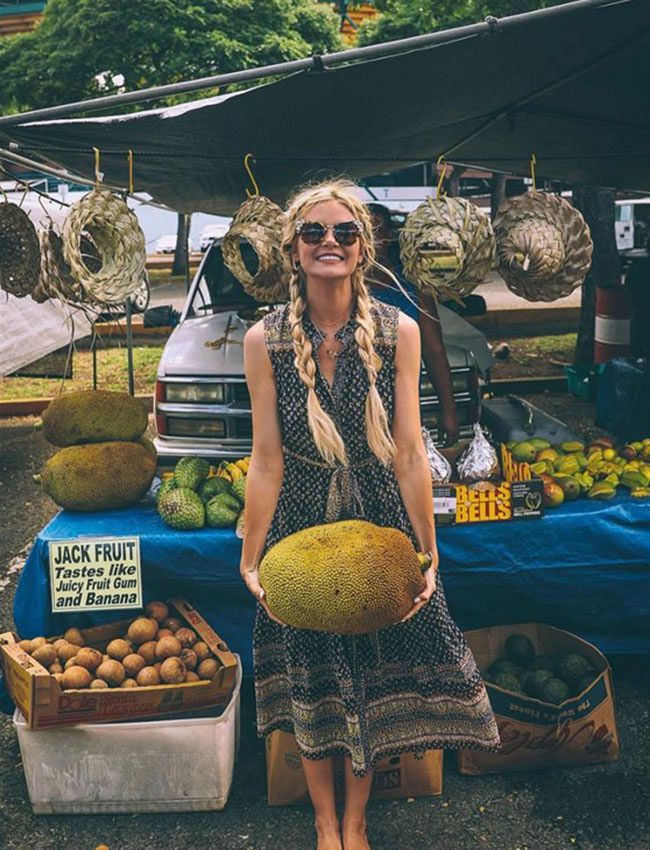 Amber Fillerup Clark @Amberfillerup / Via Instagram
How do you decide where to go next?
I have a long list of all the places I want to go so we usually just see what's next on the list and what makes the most sense with the current season. I also take into consideration flight prices. If it's cheapest to go to Europe then we go there. Almost all of our trips happened because I found a killer deal.
One of the biggest reasons keeping most people from travelling is the expense. Any tips?
My husband and I saved up $6,000 and planned to go to Europe for six weeks. We didn't spend a dime over our budget and that included car rentals, flights, hotels, food, etc. To do that we brought a big bag of food with us (stuff like ramen or freeze dried food, ha!) and we brought a tent and sleeping bag.
On that trip we road tripped through the south of France, French Alps, down the entire coast of Italy, then a ferry to Croatia, and drove all through Croatia and back to France where we took a flight to Morocco. We pitched our tent wherever we found a spot … in someone's field or at a campsite. When I went to France I nannied so I got to stay there for free and get paid a bit for being the nanny. This is always a great option for anyone wanting to experience a culture without a lot of money.
What impact does travelling have on how you raise your children?
I think travelling with our kids has been so good for them. They get to meet all types of people, see new places, smell new smells, try new foods and more. Leading up to our trip to Australia we learned lots about kangaroos and koalas. We told them they would get to see them in Australia and that was really fun for them. With Japan, we taught them how to use chopsticks (to the best of their abilities) and learned some Japanese words and more about the culture. It's been fun to make travel a learning experience for all of us.
You felt like you really "made it" when…
When I was sitting on the beach living in Hawaii watching my kids, husband and dog splash in the waves while laughing and playing.
What are the two or three things you do every morning to set yourself up for success?
Get ready. I don't always get ready but I have made a personal goal to make the effort to because I am just so much more productive and feel so much better. Also, get the kids semi-ready. I like when the kids are at least somewhat ready so if we want to go to the park we can just pick up and go. And last but not least: smile :)
What's on your nightstand right now?
I started using the SK-II Facial Treatment Essence morning and night a couple weeks ago and love it — so that has been there. I also got this rose scented lip balm from a friend for my birthday which I use every night. The rest is usually just my contact case and some of the kid's books.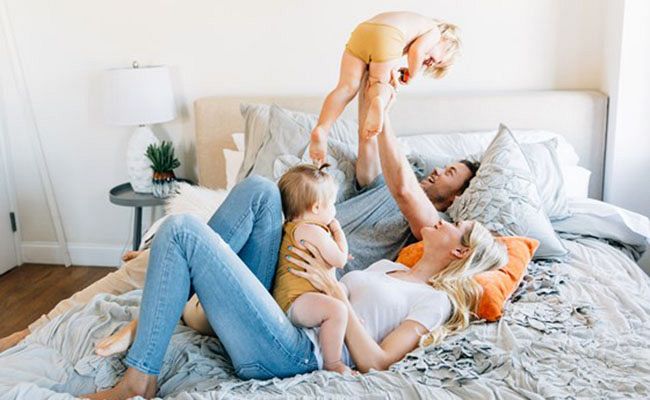 Amber Fillerup Clark and her family © Stephanie Sunderland Photography
The only guilty pleasure you can't stop, won't stop:
Binge watching shows until 2 a.m. even when I know my kids are going to be up at 6 a.m. Ha! We are about to finish Bloodline and we are also watching Better Call Saul and House of Cards.
Favourite workout jam of the moment:
Kendrick Lamar, "Humble."
Your current workout routine/favourite way to stay fit?
I started Kayla Itsines' Bikini Body Guide a while ago and finished round 1. I have been slacking on round 2 but it is still one of my favourite programs. I like that I don't have to think about it and just open the app.
Career crush(someone you admire right now):
I really admire my friend Julia from Gal Meets Glam. I love all of the amazing work they do and love how elegant she is.
What I am looking forward the most this week/month:
It is my son's birthday this weekend! He is turning 3 and I just cannot wait to celebrate and party with him!
What goal are you currently working on?
My goal lately has been to learn to manage employees. I have never had to do this before and as we are making hires I am realizing that it is really difficult and not a simple thing at all. I have been trying to read as many resources and tips as possible.
One small thing that makes me healthier/better/saner:
Listening to the Brian Regan Pandora station and having a good laugh.
Writer: Brianna Steinhilber
Picture: Stephanie Sunderland Photography
This article originally appeared on NBC News