First task: to discard any expectations that the city will fall neatly into your folder of Italian stereotypes.
Discreet yet fierce, Trieste is a windswept gem that will surprise you with its quirks. If you've travelled anywhere else in Italy, your first task is to discard any expectations that Trieste will fall neatly into your folder of Italian stereotypes.
Once the Austrians wrestled it from the Venetian Republic's claws in the 18th century, Trieste did more than survive the Austro-Hungarian influence, instead thriving under it. As a result, Austrian architecture still pervades much of the city centre.
In summer, the cosy Viennese coffeeshops seem decidedly out of place. But they're a godsend in the autumn and winter, when Trieste's unique wind, the bora, sweeps the streets and rustles up the sea and clears the skies, and a thick Viennese hot chocolate or strong Illy coffee – roasted, as it happens, in Trieste – is the most wonderful of pick-me-ups.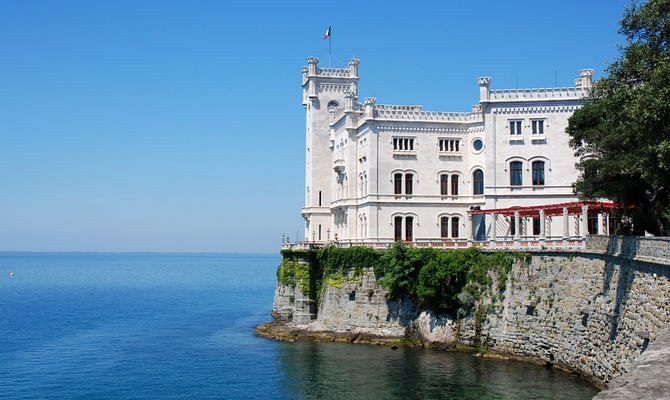 Castelo di Miramare
Caffe San Marco and Caffe Degli Specchi are both stunning examples of Viennese Secession, inspired by neoclassical architecture with intricate dark wood décor. You'll follow in some illustrious steps, too: perhaps fuelled by its legendary coffee, intellectuals have always loved Trieste. James Joyce wrote Dubliners there while teaching English at a language school to none other than the great Italian author Italo Svevo; poet Umberto Saba's Triestine origins remained at the centre of his writing.
Trieste's food scene accurately represents the confluence of the Italian and central European cultures that rules the city; being a port, though, the emphasis is firmly on seafood. A great place to sample sardines and octopus with a glass of sweet Malvasia white wine is Osteria Salvagente, as is the welcoming Antipastoteca di mare La Voliga, which matches grilled fish with polenta and soups.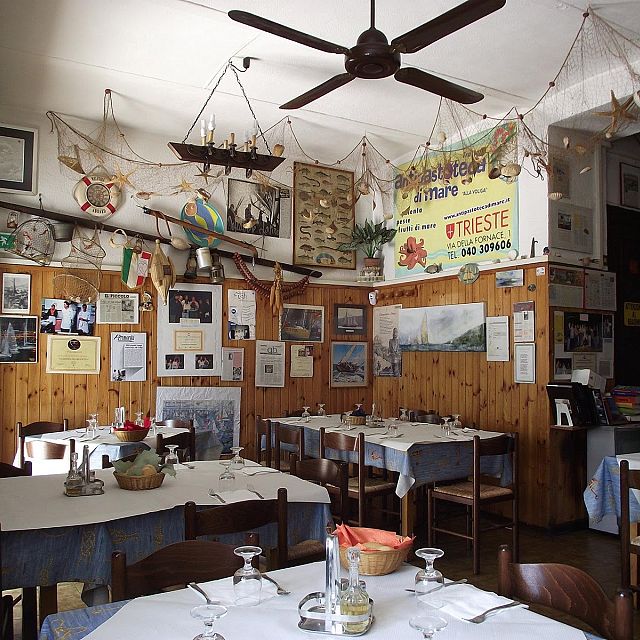 Antipastoteca di mare La Voliga
For a quick and filling lunch, head to Buffet Da Giovanni. Although it serves mostly olives and ham and cheese on bread, to call it a "sandwich bar" would be heresy – the ingredients are of the highest quality, the ham is served in thick, warm slices, and a glass of house red will set you back perhaps €2.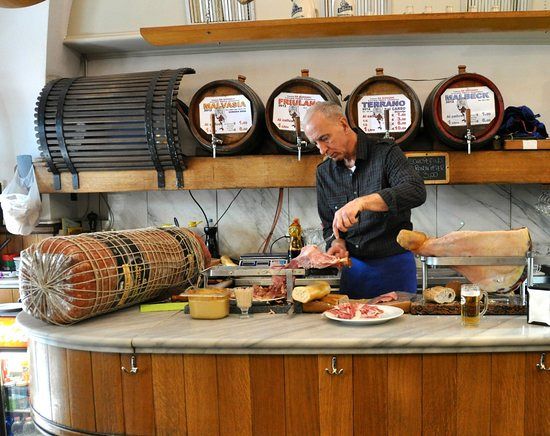 Trattoria da Giovanni
Founded in 1896, Buffet da Pepi is a landmark and serves the very best of Austro-Hungarian cuisine. For meat lovers only, it serves platters of sauerkraut and potatoes with a wide range of mustards and horseradish. It's an experience you're unlikely to find anywhere else in Italy.
If, however, you're after some more conventionally Italian flavours, have a top-notch pizza at Trattoria Tre Merli, right on the seafront, and don't even think of leaving Trieste without having tried some of its gelato at Gelateria Zampolli or Gelato Marco – the sachertorte flavour may well make you weep.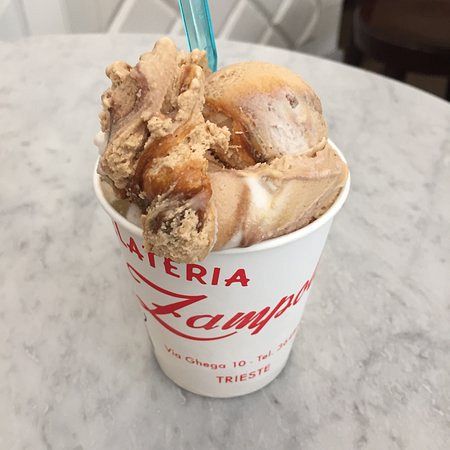 Gelateria Zampolli
You could easily spend a weekend eating and drinking, but don't forget to do some sightseeing. Trieste is made for walking, so set off for a long walk on the seaside all the way to Miramare Castle, Archduke Maximilian of Hapsburg's holiday residence, with wonderful gardens, a museum and frequent tours.
Less idyllic is the Risiera di San Sabba, an old rice-husking facility which served as a concentration camp during the war and holds the grim privilege of having been the only extermination facility in Italy. There's a small museum and entry is free.
Finally, ditch the map and lose yourself in the meandering alleys of Città Vecchia, the old town, with its antiques shops (Katastrofa) and wine bars: Urbanis is a trendy spot for an aperitivo, like the almost-local Venetian Aperol spritz, or Al Ciketo for a glass of prosecco, which, incidentally, gets its name from the nearby town of Prosecco. Just remember all aperitivo drinks come with a selection of snacks, from pizza slices to cheese bites and little sandwiches, so don't spoil your appetite.
One of the last forgotten corners of Europe, Trieste is drenched in history and memory. Umberto Saba called it a city with "a surly grace; as a visitor, as you roam the streets, battered by the wind and blinded by the sun, enticed by the coffee and tipsy from the sweet Malvasia, you might find yourself agreeing.
Writer: Laura Gozzi
Read more of Laura on her website and follow her @lauragzzi.